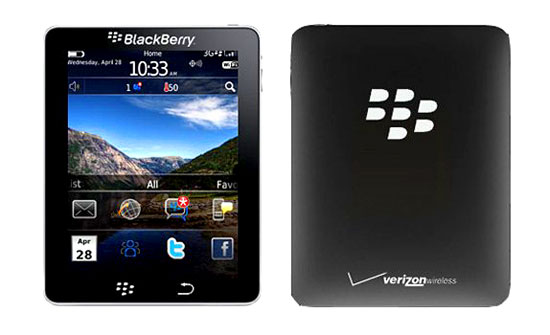 'Forget whether it can keep up with you. Can you keep up with it?' reads a phrase in the official webpage for the Blackberry Playbook. Well you might need to wait to test the reality behind that phrase.
Gossips were on for quite sometime that, with its launch of the 'BlackPad', Blackberry is all set to make a stern reply, to its most striking and obvious counterpart, the Apple's iPad, which already boasts of shipping over 3 million units in no time. RIM (Research in Motion) has however made it official that it would launch its much awaited tablet 'The Blackberry Playbook' in 2011. The Blackberry Playbook has been marketed as 'the first multiprocessing, multitasking, uncompromised browsing, enterprise ready professional-grade tablet'. While this might only leave you disturbingly amazed, let's have a glance at the specs.
The Blackberry Playbook may possess resemblances to the Apple iPad from a distance, but its smaller in size and thinner than the iPad. The Playbook is expected to come with a thickness, a little less than 10 mm, which would make it the thinnest of its cadre. With dimensions of 130mm x 194mm, it is a much compact, sleek, and stylish gadget. The Playbook weighs a bare 400g which is quite a light weight for such a blissful device.
The Blackberry Playbook comes with a 7 inch crystal clear HD display with a screen resolution of 1024 x 600. It is equipped with a multi-touch capacitive touch screen. While this might be a topic to debate for critics, as to why you would need a tablet to support multi-touch, much like how you would not want to click at multiple spots on your desktop computer, the Playbook has just followed the iPad in this respect.
The display of the Playbook is smaller in size than the iPad's 9.7" display. And it is designed to operate with bare fingers, in retrospect to those tablets of the pre-iPad period which would feature a stylus shipped with them. The device has got Wi-Fi connectivity to keep you engaged round the clock, and micro USB port for high-speed data transfer.
The most hyped part of the Playbook however has been its dual core processor with clock speed 1 GHz. The Playbook is the first of tablet to feature a powerful processor, and no doubts you can get the most complicated webpages rendered to perfection in no time. And seriously, the 1080p HD video playback with codec support would be fun.
It would run the Blackberry Tablet OS powered by QNX technology. No wonder this tablet has dragged too many eyes to it. There has not been any clear idea about the memory this device would support. All these said, only adds more to the spice.
It supports multitasking, you can browse the web in one window, resume watching the movie in another window, and you could also pick up the video call from aunt Kate all at the same time. You can pair this gadget with a Blackberry smartphone over Bluetooth to get quick access to mails, calendar, tasks, documents, and much more.
The device comes with dual cameras – a 3 MP camera on the front, and a 5 MP camera on the rear. This, along with the presence of stereo sound, and the Wi-Fi would ensure you to enjoy best-in-class video conferencing anywhere, anytime.
Its in-built browser is set to give its users a very interactive, user-friendly browsing experience. The browser supports Adobe Flash 10.1, has got built-in support for HTML 5 (what you can expect most websites to adhere to in near future). And you would get all text, graphics rendered even better than your notebook PC, not to forget the presence of the on-screen tap keyboard.
Well, all these said, this device would pose serious threats to the Apple iPad, and is sure to set a mark in the tablet PC market, but it only needs more patience to wait until it hits the showcases. Wait on folks! It's worth it.
Blackberry Playbook specs:
* 1 GHz Dual Core Processor
* 1 GB RAM
* 7 inch LCD display with 1024 x 600 screen resolution
* Multi-touch capacitive display
* Dimensions : 130mm x 194mm x 10mm
* Weight : 400g
* microUSB , micro HDMI and DLNA support
* Wi-Fi 802.11 a/b/g/n
* Bluetooth 2.1 + EDR
* Powered by QNX platform with multitasking
* Adobe Flash 10.1 support
* Support for HTML 5
* Video Conferencing with HD Quality and Stereo sound
* 5 MegaPixel resolution Rear Camera
* 3 MegaPixel resolution Front Camera
* Video playback : 1080p HD video – H.264, MPEG4, WMV , DivX codec formats
* Audio Playback :MP3, AAC, WMA
* Pair with any Blackberry Device ( min OS 5.0 device) via Bluetooth for Push Email , Calendar , Docs and BBM