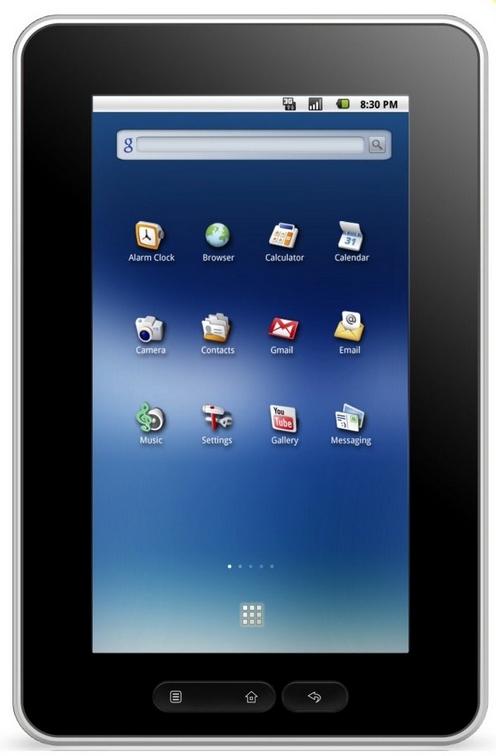 Like how tomatoes would be considered to be poor man's apple, the Cherrypal is reckoned by many as poor man's most-wanted gadget. Cherrypal which is noted as brand for its ultra inexpensive streak of products, has set another mark with its venture into the tablet PC market.
Anticipations were already on, that Cherrypal would step into the tablet PC arena. Max Seybold, CTO of Cherrypal has made it clear with its release of the 'CherryPad' tablet that it is not a launch set to sweep the Apple iPad off its shoes, nor to compete with the iPad and other tablets in the party. Speculations are buzzing that it is aimed at a different mass of audience.
The tablet is built to run on the Android 2.1 and Cherrypal has already made a word that this tablet would have full access to the entire Android market. The tablet features a 7 inch resistive display with resolution 800×480. It houses an 800 MHz Samsung ARM11 processor to leverage some rich multimedia and power-packed games.
It also promises full hardware acceleration with the OpenGL 2.0. The tablet has a 256 MB RAM, which is lesser in comparison to the Apple iPad or the Blackberry Playbook. It supports in-built 2GB flash memory and has got a microSD slot for memory expansion.
It can help you stay connected with the Wi-Fi b/g option, but quite surprisingly it comes with an USB port for plugging a 3G modem for broadband access. And for the audio support the device comes up with built-in speakers, a 3.5 mm headphone jack and microphone.
The 3200 mAh battery seems to be a fairly good one, for a tablet PC running the Android, and is expected to keep the tablet alive for 6-8hrs duration.
On the downside, we do not have a clear idea if the device would feature cameras for video conferencing. All the above said for a fair cost of $188 is not a bad deal at all. In short, it's a good maiden release from Cherrypal to the Tablet PC market.
Cherrypad America 7-inch Android specs:
Dimensions:
Height 5.19 inch (13.2 cm)
Width 0.49 inch (1.25 cm)
Length 7.95 inch (20.2 cm)
Weight 1.15 lbs (0.52 kg)
Processor Telechips ARM11 800 MHz (CPU + GPU + DSP) system-on-chip
Graphics accelerator OpenGL 2.0
Firmware: 0.90 Eclair (optimized for smooth scrolling and power management)
Operating environment: Android 2.1
Factory language setting: English (United States)
Other supported languages: English (United Kingdom, Canada, Australia, New Zealand, Singapore),
Spanish, Chinese (PRC, Taiwan), Czech, Dutch (Netherlands, Belgium),
Czech, Dutch (Netherlands, Belgium), French (France, Belgium, Canada,
Switzerland), German (Germany, Austria, Switzerland, Liechtenstein),
Italian (Italy, Switzerland), Norwegian, Japanese, Korean, Polish, Russian
Display technology: 7-inch resistive touch screen 800-by-480 pixels resolution
Display navigation: touch of fingers (soft touch, firm touch) or stylus
Sensors: gravity sensor
Video playback: 1080p (HDTV video mode, 1,080 lines of vertical resolution)
Memory : 256 MB DDR2
Storage: 2 GB NAND Flash (plus 16 GB through Micro SD card)
Wirless (WiFi): 802.11 b/g (n)
Speakers: 1 high quality stereo speaker
Microphone: built in microphone
Audio: 3.5mm headphone jack
USB : USB 2.0
Card reader: Micro SD reader (supports up to 16 GB)
Battery: 3200 MAh rechargable lithium-polymer battery (6 to 8 hours run time)