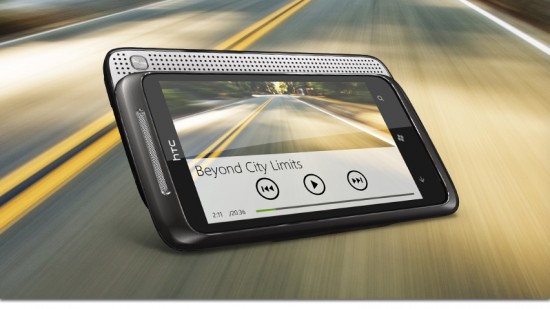 The very sight of the name 'HTC 7 Surround' would leave your minds with ideas, that this is an exclusive one from HTC, dedicated for its Audio, Multimedia capabilities. Good guess, and it's not just another one, but one specially designed for its HD movie watching with rocking sound system. The phone is one of the few models to be released in the US, which would run on the Windows Phone 7 operating system for Mobile phones, brought to light by Microsoft not so long ago. The phone would soon be available in the US from AT&T.
The HTC 7 Surround possesses shiny, rock solid looks like its other siblings from HTC, which would run the Windows Phone 7 OS. The phone has a slider form factor. Well, it's not the QWERTY keyboard that actually slides out, that's cliché these days, at least after seeing the HTC 7 Surround.
But much to your surprise, the HTC 7 Surround has a surround speaker that slides out on top from landscape position. To still add to the fun, it features Virtual Surround sound with Dolby Mobile and SRS WOW HD. With a kickstand attached to the rear side of the display, you can place your phone vertically on the table just like an alarm clock, and have non-stop fun with your most favorite movies and videos in HD. The kickstand could be accessed, with the speaker panel slid out. The kickstand is made of metal and appears to be rigid and strong enough to bear the phone's weight.
The phone features a mammoth display at 3.8 inches purposefully designed for watching movies and videos at 480×800 pixels resolution. The display is a slight 0.1 inch bigger in size than the HTC 7 Mozart. It has got dimensions 61.5 x 119.7 x 12.97mm, and it weighs 165g. Below the screen you can find the standard three touch-sensitive buttons that would be featured on all WP7 phones.
However, for a phone designed specifically to target the movie-maniacs, we need to admit the fact that the quality of the display isn't that great, in comparison with the other releases from Samsung and others manufacturing Windows Phone 7 models. And in natural light the display is not bright enough for a clear vision. It's high time HTC puts in some serious thought in this aspect, and comes up with better displays at least in the ones to follow.
The Windows Phone 7 from Microsoft appears to be a power-packed one with its range of apps. The home screen would have a matrix of tiles, rendering you access to your most-wanted content of news, weather, stock updates, music, mails, and a lot more. With the HTC Hub, you can download countless apps and games, guaranteeing unlimited fun with your phone. Other interesting apps include Photo Enhancer, Sound Enhancer and Zune.
The phone would be shipped with a 1GHz Snapdragon QSD8250 processor with 448MB RAM, 512MB ROM, and 16GB of internal memory storage (No memory expansion). It features a 5 Megapixel camera with an LED flash, capable of recording 720p HD movies. It has Wi-Fi, Bluetooth, Assisted-GPS, and micro USB support.
The most obvious thing to notice when you have it in hand is its added weight because of the slide-out speaker. While you might feel you need to compromise on the weight for those speakers, its an unfortunate truth that the audio quality from the speakers is only fairly good, and definitely not those rocking, dynamite sound quality as claimed by HTC. The HTC 7 Surround also appears to be thicker than the other phones with the same specs.
More to add on the downside, the phone does not support memory expansion. It has a 16 GB internal memory, and that's all it can hold.
This is a phone that has got a lot of positives and negatives. Well, you can really for it if you are really looking for a powerful phone with great multimedia capabilities featuring a trendy design and formal look.
CPU Processing Speed
1 GHz
Storage
Internal storage: 16 GB
ROM: 512 MB
RAM: 448 MB
Connectors
* 3.5 mm stereo audio jack
* Standard micro-USB (5-pin micro-USB 2.0)
Sensors
* G-Sensor
* Digital compass
* Proximity sensor
* Ambient light sensor
HTC Hub
* Weather, Stocks, Converter, Photo Enhancer, Sound Enhancer, and more
* Downloadable apps and games
Multimedia
* See photos from your camera, Facebook® and Windows Live™ accounts in the Pictures hub
* Music and Videos Hub powered by Zune® lets you listen to radio, download music, and more
* Dolby Mobile and SRS surround sound
Audio supported formats:
* .m4a, .m4b, .mp3, .wma (Windows Media Audio 9)
Video supported formats:
* Playback:.3gp, .3g2, .mp4, .m4v, .mbr, .wmv (Windows Media Video 9 and VC – 1)
* Recording:.mp4
Power & Battery
Battery type: Rechargeable Lithium-ion polymer or Lithium-ion battery
Capacity: 1230 mAh
Talk time:
* WCDMA: Up to 250 mins
* GSM: Up to 240 mins
Standby time:
* WCDMA: Up to 255 hours
* GSM: Up to 275 hours
Network
AT&T:
* HSDPA/WCDMA: 850/1900/2100 MHz
* GSM: 850/900/1800/1900 MHz
Telus:
* HSPA/WCDMA: 850/1900/2100 MHz
* GSM: 850/900/1800/1900 MHz
Platform
Windows® Phone OS 7
Camera
* 5 megapixel color camera
* Auto focus and flash
* 720p HD video recording
* Built-in scenes include candlelight, landscape, and portrait match the environment of your subject
Internet
3G:
AT&T
* Up to 7.2 Mbps download speed
* Up to 384 kbps upload speed
Telus
* Up to 7.2 Mbps download speed
* Up to 2 Mbps upload speed
GPRS:
* Up to 114 kbps downloading
EDGE:
* Up to 560 kbps downloading
Wi-Fi®:
* Wi-Fi®: IEEE 802.11 b/g/n
Bluetooth®
* Bluetooth® 2.1 with Enhanced Data Rate
* A2DP for wireless stereo headsets
* Other supported profiles: AVRCP, HFP, HSP, PBAP
Social Networking
* Facebook® and Windows Live™
* Share photos on Facebook® or Windows Live™ SkyDrive®
Location
* Internal GPS antenna
* Bing™ Maps
Special Features
* Slideout surround speakers and kickstand
* Customize your phone with live tiles which dynamically update all key information right on the Start screen
* Choose from thousands of video titles and music tracks via integrated Zune® services
* Play console-quality video games with XBox LIVE® integration
Recommended Windows System Requirements
* Windows® 7, Windows Vista®, or Windows® XP
* Zune® software