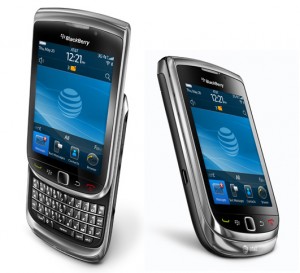 The smartphone market has turned into a competitive zone lately where companies have to follow the "do or die" living style. RIM BlackBerry has been making serious developments in order to retain its position in the world of smartphones and it seems as if the company has finally achieved a few of the targets. The RIM BlackBerry Torch 9800 is a combination of all the powerful smartphone experiences and the best user friendly interface in order to provide consumers with the most exciting experience with BlackBerry.
The serious developments include BlackBerry OS 6 above all other changes that has come up with a better interface and better experience on the overall. The browser and multimedia has become way to fast then they were previously and it can be expected that the company is going to regain confidence of all the mass community that they have been dealing with in the near future. Yes, I said near future because there are still a lot of details that RIM needs to work upon in order to turn such smartphones into masterpieces. The BlackBerry Torch missed just a few marks to become the best smartphone every authored.
BlackBerry Torch OS 6 was anticipated by people from around the world and it did justify in terms of setting up an improved performance. The enormous touchscreen is another of the excellent features that the smartphone has but there have been a few issues with the screen though. It was not found to be as sensitive to touch as is expected from a touchscreen interfaced phone. In addition to that, the resolution that screens displays is not impressive enough from a renderer like RIM.
BlackBerry Torch 9800 also didn't overcome minor glitches that have become more of drawbacks to the overall smartphone experience. You are not able to save any application on the removable storage device: applications can only be saved on the phone memory.
The slide phone with 3G capabilities does impress a lot of users around the world by being the first in the category from the most elegant phone makers in the world. BlackBerry Torch 9800 features a 5.0 megapixel camera that shoots really exotic but then again, you have a limitation here as well. The phone does not shoot videos very well rather in just the VGA mode. Still photography is doubtlessly impressive with a 2x digital zoom apart from the standard camera features.
The smartphone has 512MB of memory to power your application and smartphone experience but still acts sluggish at instances that is a major lapse of all times. There is still a lot more to be done with the smartphone to make it perfect: BlackBerry Torch 9800 is still a good choice when it comes to the enterprise smartphone experience.
Specs:
* OS: BlackBerry 6
* Processor: 624 MHz
* RAM: 512 MB
* Storage: 4 GB built-in + 4 GB microSD (expandable to 32GB)
* Display: 3.2-inch 360×480 capacitive touchscreen
* Battery: Lithium Ion 1270mAh
* Ports: Micro-USB
* Weight: 5.68 ounces
* Dimensions: 4.37(h) x 2.44(w) x 0.57(d) inches (the height is 5.83 inches when open)
* Camera: 5.0 megapixels, autofocus, 2x zoom, image stabilization, face detection
* Sensors: GPS, accelerometer
* Keyboard: 35-key QWERTY backlit slide-out keyboard; and both portrait and landscape virtual keyboards
* Networks: GSM/GPRS/EDGE 850/900/1800/1900 MHz; UMTS 2100/1900/850/800 MHz
* Wireless: Wi-Fi 802.11 b/g/n; Bluetooth 2.1
* Tethering: USB