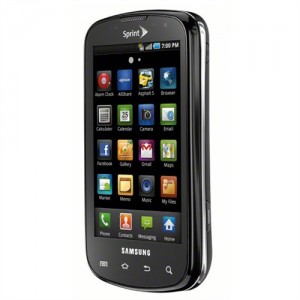 Samsung Galaxy S series has been no less than a real blast in the smartphone market as they have certainly revolutionized the smartphone experience people had lately. Samsung Epic 4G is the next in the series that has 4G capabilities and is certainly an impressive device.
There have been many people who have been looking forward to the launch of this device while the date has not been announced so far. There are no words to comment on the 4" Super AMOLED display as this technology of Samsung has taken over the world of mobile phone displays. The company has produced one of the most exotic interfaces through the device.
Samsung Epic 4G has a 1 GHz process to back all the processes that are going on in the machine to provide users with an experience that is seamless throughout. In addition to that, the QWERTY keyboard is another of the impressive features that might attract you if you are from the class of people who love to have a keyboard and does not like the touch screen interface for typing email and messages.
The phone features 5 megapixel camera with LED Flash to light up your memories and provides excellent image and video quality on the overall. The front facing camera is another of the features that enable you to make video calls and make the best use of 4G capabilities. You can even turn this device into a hot spot sharing your data connection with up to 5 users simultaneously.
Samsung Epic 4G has got tremendous multimedia capabilities apart from the normal smartphone features that makes it even better choice to consider. You get to have the best photograph gallery to make a collection of your memories with video and audio capabilities in the same gallery. Turn your mobile phone into a multimedia powerhouse that never loses a bit.
Samsung Galaxy S has been an excellent phone but Samsung Epic 4G has even better abilities. There is one thing that does disturb everyone: the high price tag and the heavy weight. The phone weighs around 5.5 oz that is something Samsung would have worked upon in the development phase. Apart from being a costly phone with a costly data plan and a bulky weight, Samsung Epic 4G is the phone that certainly tends to impress a lot of users.
Specs:
* Android 2.1
* 1GHz processor (Cortex A8 Hummingbird)
* 4-inch Super AMOLED capacitive touchscreen display
* 5-megapixel camera
* CDMA/EVDO Rev A wireless radio
* Bluetooth 3.0
* LED flash
* 720p video recording
* Front-facing VGA camera
* Wi-Fi b/g/n
* 1GB ROM, 512MB RAM
* 3G
* 4G
* 1,500mAh battery
* GPS
* Six-axis motion sensor
* 3.5mm headphone jack
* microSD card expansion up to 32GB
* Dimensions: 4.9 x 2.54 x 0.56 inches and 5.46 ounces