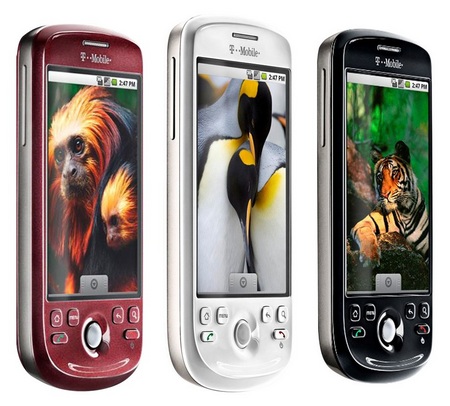 If you have been wondering whether the T-Mobile MyTouch 3G Slide would turn out to be your favorite Android phone from T-Mobile, you have landed in the right place. Read on to discover.
This one from T-Mobile bears a great amount of carrier customization added to it. And without doubts, another good release like its Android predecessors from T-Mobile.
The T-Mobile MyTouch 3G has a slide form factor, with the QWERTY keyboard sliding from underneath bearing neatly placed keys, with sufficient space in between, specifically aimed not to give you that cramped feeling while typing. The MyTouch runs on the Android OS like the G1. It is shipped with the Android 2.1 version and it is featured in the list of phones to receive the Android 2.2 FroYo update. The phone was announced in the United States in May 2010 and shipping started a month later. The phone was released in three colors – black, white and red.
The MyTouch 3G slide comes with a 3.4 inch display with 320×480 pixels resolution. The touch screen is a capacitive type one supporting multi touch. The screen is pretty bright, and you will feel absolutely fine with the display if you have not got used to those high-end high resolution displays prior. There have been few concerns however about the slide movement, you might find it bit noisy due to the friction caused by the rubber, but for that the slide action would not be a problem.
The keyboard is the best in the phone to tell you. The keys are well spaced in 4 rows, and your fingers would not touch each other while typing. In short, if you have got used to the QWERTY keypad layout, not much strain is required for texting, as against those small QWERTY keypads found on other sets in the same price range. And the keys on the front also are spaced well.
Looks-wise, the phone does not bear those formal business class looks. It has shiny casing panels both on the front and the back side. It has rounded edges and wears more of those fancy looks intriguing youngsters. Blackberry users would find more than a reason to not like this phone. You will discover why as you read on.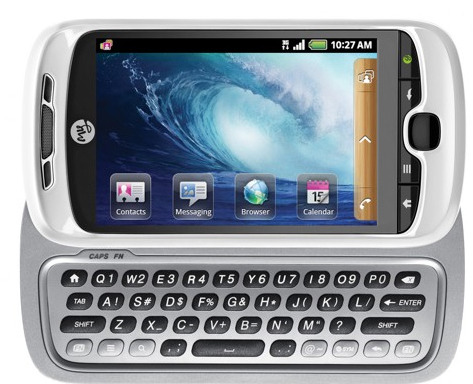 The phone has more to get excited about. In place of the traditional Search button below the screen comes the Genius button which is for activating the text-to-speech system supported by the phone provided by Dragon Dictation Technologies. The dictation is well recognized by the phone, but again you need to talk more to your phone to make it do what exactly you want it to. Below the physical buttons is the optical trackpad like the one featured in Blackberry devices. However you need some real meddling for getting used to the trackpad.
The phone is equipped with a 600 MHz Qualcomm processor, and has 512 MB RAM and 512 MB ROM. The phone comes with an in-built 512 MB flash memory. There is support for further expansion upto 32 GB with the microSD slot. That's real sufficient space to pack songs, movies and stuff. The phone has a good 5 Megapixel camera with the two-stage click button on the side. The camera performs decently without much obvious complications. T-Mobile has done a lot of work in the software part.
On top of HTC's basics and the Android, lot of customizations have been performed. Overall, its a good user-friendly one. The interface also bears some freaky looks, with large shiny icons featured in the home screen. And the phone is shipped in a hard casing made of plastic to carry all that comes with the phone.
There are few letdowns for the phone. The flashy panel casing, though does not convey those formal looks, renders the phone a cheap and plastic
appearance. But overall, it's a decent phone given its price tag. It's a perfect choice for youngsters who look for some trendy gadgets with social networking, texting and music on the go.
T-Mobile MyTouch 3G Slide specs:
Battery type
* 1300 mAh Lion
Codecs
* AMR; EFR; FR; HR
Dimensions of handset
* 4.5" x 2.32" x 0.59 "
Main display
* Type: Up to 262k TFT color
* Colors: 16 bit
* Size: 480 X 320 pixels
* Dimensions: 3.4 inches
Language
* English; Spanish
Memory
* Combo type: 512 Flash/512 MB DDR (includes 32 MB baseband chip)
* Expandable memory/card slot: Yes
* Type: MicroSD
* Size: Up to 32 GB
* NOTE: Although the myTouch 3G Slide supports 32 GB memory cards, no memory cards above 16 GB have been tested or approved.
Frequency bands
* GSM: 850; 900; 1800; 1900
* UMTS: Yes
* Bands: 1 (2100) and 4 (AWS 1700/2100)
Phone style
* Slider
Phone book capacity
* Number of entries: Up to 10,000
Operating system
* Open OS – Android™
Weight
* 5.9 Ounces
Camera
Type
* 5.0 Megapixel
Resolution
* 2592 x 1456 pixels
Connectivity
3G
* UMTS: Yes; Bands: 1700/2100
* HSDPA: Yes
Bluetooth*
* Class: 2.0
* Profile list: Headset; Handsfree; A2DP Stereo
* *The Bluetooth word mark and logos are owned by the Bluetooth SIG, Inc. and any use of such marks by T-Mobile is under license. Other trademarks and trade names are those of their respective owners.
Auto pairing
* Yes
Browser
* Type: WebKit Open Source
* Supports: WAP (2.0); xHTML; WSP; HTTP
EDGE
* Class: 10
GPRS
* Class: 10
Synchronization
* Google™ Branded Services (Contacts™, Calendar™, Gmail™, Gtalk™)
* Microsoft Exchange (Contacts, Calendar, Mail)
HSDPA
* Yes
Assisted Global Positioning System (AGPS)
* Yes
Location Base Services (LBS)
* Yes
USB support
* Yes (micro-USB connector)
USB mass storage
* Yes
Wi-Fi
* Yes
Picture caller ID
* Yes
External CLI
* Yes
Ringer caller ID
* Yes
Speakerphone
* Type: Full duplex
Vibrate
* Yes
Voice dialing
* Yes
Speaker Independent Voice Recognition (SIVR)
* Yes
E-mail client
* Protocols supported: IMAP; POP3; G-Mail; Exchange Email
Instant messaging (IM) client
* AIM®; Yahoo!® Messenger; GTalk; MSN® Messenger
MMS/Picture messaging
* Multimedia supported: Audio Clips; Graphics; Photos; Video Clips
Video messaging
* Yes
SMS/Text messaging