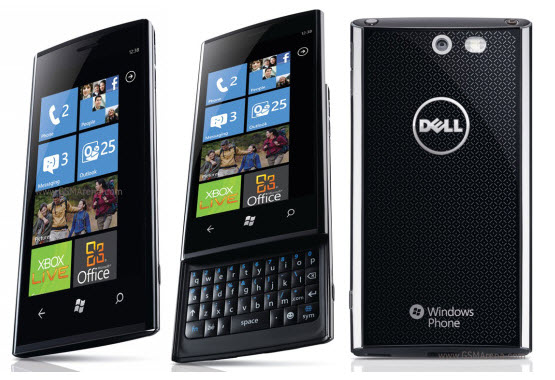 Rumors, mockups and leaked pictures of Dell's latest venture into the smartphone world, the Lightning, have been floating around the Web for quite a while now, but only recently has Dell made an official statement about the device: the Lightning will be released!
Of course, the code name didn't stick (which would've actually been darn good), and the smartphone got another one, Dell Venue Pro, which isn't too bad either. The device is well made and it looks and works great, though a lot of people think it would've been better if it ran Android instead of the as-of-yet unproven Windows Phone 7. Anyway, here's a quick review of the major specs of this smartphone, so you can decide whether it's worth it or not.
Exterior
On the outside, the Venue Pro looks simply great. It's got a very sturdy housing that fits well in your hand and looks like it can take a beating – a defining feature of any professional smartphone. It's definitely not small, slim or light – but that's exactly what makes it great for intensive daily work. You have everything you need functionality-wise: a 3.5 mm jack on the top of the device, a micro-USB port on the bottom, a nice 5 megapixels camera on the back and three touch buttons on the front for navigation.
The real kicker, however, comes when you slide the front part up (in portrait mode): it reveals a full QWERTY keyboard that looks and works amazingly well, and which makes the Venue, well, Pro. It's not as wide as a landscape one, but it's big enough to work comfortably with two or even one hand, and can definitely hold its own against a Blackberry keyboard, which says a lot about it.
Display
As a smartphone intended for mobile professionals, the touch experience on the Venue Pro simply must be a good one, and Dell doesn't fail to deliver. The 4.1 inch WVGA AMOLED display provides a beautiful picture, and its contrast and brightness are enough to allow the device to be used in any circumstance, be it sunny outdoors or a dark presentation room. The screen is covered in Gorilla glass, which makes it pretty much impervious to scratches. The capacitive touch is very responsive – no problems there.
Processor, RAM and Graphics
The Dell Venue Pro comes with the standard for the first generation Windows Phone 7 devices 1 GHz processor and 512 MB of RAM, which should be enough for most applications for the next couple of years, although newer Android phones are already moving on to 1.2 GHz+ and dual core processors, which could mean that the Venue Pro will be relatively slow by the end of 2011. The graphics performance should be on par with any other WP7 phone, hardware-wise, and the graphics are much better in games on Windows Phone 7 thanks to Microsoft's DirectX 9 and Xbox gaming engine, both of which are present on their mobile OS.
Storage Space
The Venue Pro has 1 GB of ROM storage for all your apps and 8 GB of internal Flash memory for all your data, which is a bit on the low side compared to modern 16 and 32 GB sizes we get on other phones, especially because there is no micro SD card slot to extend it when necessary.
Other Hardware Specs
All the other hardware specs are pretty standard for a modern smartphone and more importantly, conform to Microsoft's Minimum Hardware Requirements for a Windows Phone 7 device: you have support for Wifi N, Bluetooth 2.1 EDR, HSPA 7.2/5.76 Mbits download and upload, GPS, HD video recording, and other useful things. All of that is nothing out of the ordinary, but more than enough for everyday use.
Software
Of course, the main attraction of the software part on the Venue Pro is Windows Phone 7, or at least it was supposed to be, as the enthusiasm for the new OS has significantly declined since it actually became available for the users to try. There are a lot of things that it's missing and a lot of bugs that need to be fixed, and the innovative interface isn't enough to fix that. The good news is that Microsoft seems to be working hard on it, and the apps marketplace is growing every day.
I suppose when Opera releases their browser for WP7 and Microsoft makes a better version of Office Mobile, then the new platform might become actually useful for serious people. Right now, the only things you can do on Windows Phone 7 is play games and use the Facebook/Twitter apps (and that's only if they don't freeze on you :-).
Conclusion
The Dell Venue Pro is an excellent smartphone with a great form factor and build quality. The hardware features are spot on for a modern device, but the choice of OS could be better: For a phone aimed at professionals, Windows Phone 7 (with its lack of multitasking and even encryption) is too new, untested and unstable.
Why Dell, who has other great Android phones, went with this OS/phone combination, is beyond me (though I suspect it might have something to do with Blackberry owners not liking Google :-). But hopefully, maybe, things will change in the following months, and if they do, The Venue Pro could become the best smartphone on the market for intensive everyday use.