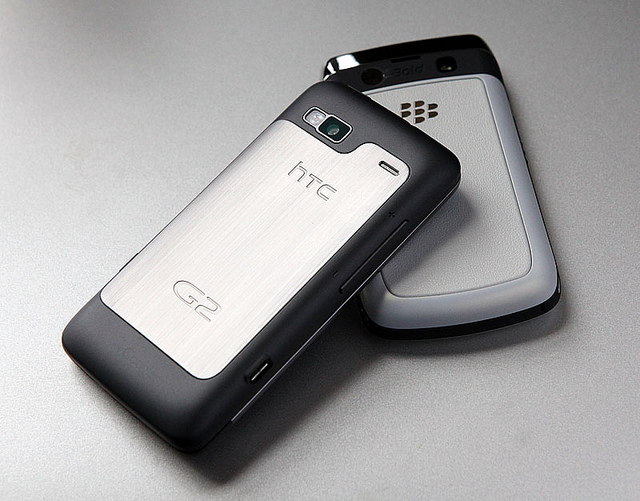 Android sure has come a long way since it was first announced and finally released to the general public in October 2008. In two years, a lot of things have changed, mostly for the better.
There are now over 100,000 great apps on the operating system's marketplace, all of which help Android do anything the users want it to and compete on equal terms with the giant in the industry, Apple and their iPhone, which is still the leader of the smartphone sector.
The first phone to boast the new OS was the T-Mobile G1 in the US, followed by the HTC Dream, the same phone, in Europe. It was then that T-Mobile promised that their "With Google" phones will be open and provide the user with a true Android experience, without any "improvements" from the network itself.
And now, half a dozen handsets later, the company still remembers the promise, fortunately, as we can see with the latest generation of Android phones, the T-Mobile G2, aka HTC Desire Z. The G2 is set to be one of, if not THE, best smartphones of 2011, and it certainly has everything it needs to succeed. Below is a quick review of the new smartphone, with all of its advantages, features and disadvantages.
Exterior
The T-Mobile G2 looks very nice on the outside. It has a sturdy housing with a very professional looking brushed aluminum frame surrounding the display and an aluminum back cover with its own release latch. The phone looks like it's made for business, and is a nice change from all the glossy plastic-y phones we've seen the last year (including the iPhone 4 and Nexus S). Its weight and size will also add to that statement, with the G2 weighing a hefty 180 grams and being 119×60.4×14.16 mm in size.
The main point of the housing is the Z hinge, which a lot of people don't like it and question the reasoning behind it, but as we're stuck with it, I'm glad that it's only drawback is that you can't hold the G2 upside down, as the top side hangs down and makes it impossible to use the device.
The QWERTY keyboard it hides, fortunately, is the best keyboard yet on a smartphone – the keys are big, they have enough space between them and they're raised and clicky just enough to be perfectly comfortable. It's kind of like the Thinkpad and Elitebook laptop keyboards – once you try it, you won't want to go back.
Display
The G2 features a pretty standard 800×480 3.7 inch capacitive touch screen, which is decent, but nothing special. It has great contrast, brightness and color reproduction, and the digitizer works perfectly – what else do you need? The screen is very visible in any conditions and the viewing angles are good, so there's no issue with its everyday use.
Processor, Graphics and RAM
The G2 features the new Qualcomm MSM7230 SoC, running at 800 MHz and still being faster than all the other 1 GHz devices on the market (it beats the Nexus One and even the Galaxy S in benchmarks!). It also consumes less power, which makes for a great mobile chip on a smartphone. The processor is coupled with 512 MB of RAM – plenty enough for any apps you might need to run. The graphics adapter is almost as fast as the PowerVR SGX540 in the Galaxy S – a great improvement on Qualcomm's part, who've been struggling with their subpar solution in the previous SoC's.
Storage Space
The G2 comes with 4 Gb of internal memory for the OS and apps, and has an external micro SD card slot for all your other data, games and apps. It ships with a 8 GB card, which can be swapped for a faster (necessary if you shoot 720p videos) or larger one (up to 32 GB, currently, with 64 GB cards on their way).
Other Hardware Specs
The other specs are pretty standard. Like a lot of other new smartphones you've probably seen on the market, the T-Mobile G2 features a 5 megapixels camera with flash, Wifi N and Bluetooth 2.1, GPS, ambient light sensor, HSDPA support for up to 14.4 Mbps download and 5.76 Mbps upload (only T-Mobile supports these speeds on their HSPA+ network in the US), a 3.5 mm jack for headphones and other useful things.
Software
The T-Mobile G2 comes with an almost vanilla install of Android 2.2 Froyo, which wouldn't be bad if only the T-Mobile apps could be uninstalled. Fortunately, the apps are actually pretty useful (like Quick Office) or at least don't get in your way (like the Motoblur on the G2's main competitor, the Droid 2) The default install also lacks the tethering feature, for some reason, which is kind of disappointing.
But thankfully, the G2 and Desire Z can be rooted permanently (albeit it's more difficult than on previous HTC devices), and you can not only install your favorite custom ROM (CyanogenMod is seriously much better than any default install I've ever seen and it's a must if you want the best experience with your smartphone), but also safely overclock your phone to 1.2 GHz and more!
If you were pondering between the G2 and Droid 2, well, wonder no more, as the Droid 2/Milestone 2 both have locked bootloaders, making custom ROMs on them a dream that will never come true (couple that with the uninstallable Motoblur and you'll see why most tech-savvy buyers switched their Droid 2's for a G2 as soon as it was available).
Conclusion
The T-Mobile G2/HTC Desire Z is a great smartphone that will last for years to come. It is one of the best choices if you want a powerful all in one device for all your mobile needs, and at the ~$550 price for a new unlocked unit, it's also the cheapest (T-Mobile had a special promotion where they offered it for only $50 with a 2 year contract, but sadly it's over). If you're considering buying a new smartphone, you should definitely check it out – I'm sure you'll end up buying it.