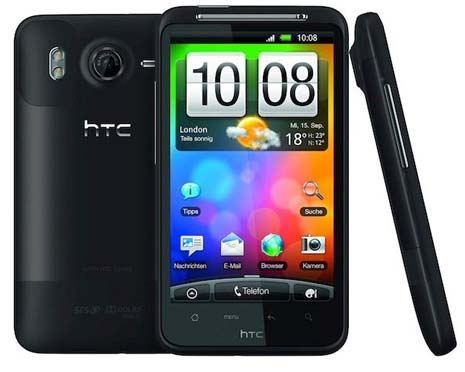 The successor to the popular HTC Desire Android smartphone is dominated by a huge 4.3in SLCD screen. This betters its predecessor's 3.7in and makes it the largest display on test, narrowly beating the 4in dimensions of the Samsung Galaxy S and Sony Ericsson Xperia X10. Despite the 'HD' title, the 480×800-pixel resolution remains the same as before, so the pixels aren't as invisibly tiny as those of the iPhone 4's Retina Display – but there's nothing soft or blurry about it. One update reminiscent of Apple hardware design is that, like HTC's Legend, each Desire HD is crafted from a single block of aluminium.
Elsewhere, the specs are unmistakably high-end. A 1GHz ARM-based 8255 Snap¬dragon processor runs version 2.2 of the Android OS ('Froyo'). The 8Mp camera provides dual-LED flash and 720p HD video recording, and you get Dolby Mobile sound. There's a meagre 1.5GB of internal memory, but the microSD card slot supports up to 32GB, fully exploited by Froyo for both data and apps. The operating system also offers built-in wireless tethering in addition to a range of other improvements.
The Desire HD is also one of the first HTC smartphones to make use of the new Sense software. Enhancements include a shorter boot-up time of just 10 seconds, cached map data for faster rendering of maps (along with a digital compass built into the map) and DLNA support for connection to compatible television sets. This latter feature is also found in the Motorola handsets we tested.
You also get access to HTCSense.com, a set of desktop-based services centred on backup and security. These let you locate your phone on a map, remotely lock or wipe it, and archive contacts, texts and call history. In effect, HTC users get the choice of managing their whole mobile phone experience either from their HTC phone or from a PC.
While some of the proprietary skins and bolt-ons offered by phone ven-dors may seem like gimmicks, the benefits of HTCSense are convinc¬ing. Given the regularity with which handsets get lost or stolen, it's reas-suring to know that as soon as you find your mobile is missing you can forward calls and texts to another phone, send a message to the device to tell whoever finds it where to return it, or if all else fails remotely delete all your personal data. And all the HTC¬Sense functions can then be ported to a new phone, as long as it's an HTC.
There's plenty to admire in the Desire HD. With the latest Android OS, a powerful processor, great camera, huge screen and attractive aluminium case, the HTC rivals the Samsung Galaxy S as the most desirable Android phone.
The verdict
Price (SIM-free) £469 inc VAT