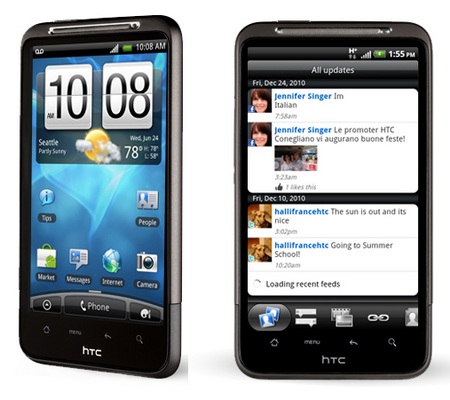 The HTC Evo 4G is a pretty successful device in the US, selling very well and receiving lots of good reviews, and despite having quite a few shortcomings (like the big overall size, short battery life and no trackball or optical pad) it has one big asset that trumps them all: a big 4.3 inch screen that is simply a pleasure to work with.
Strangely, there were no direct alternatives to the Evo 4G on other US networks (the Evo 4G is CDMA and can only be purchased for Sprint) until now. But thankfully HTC and AT&T finally decided to work together again and they released a new big screen smartphone for the network, the HTC Inspire 4G.
You can recognize this smartphone as the HTC Desire HD – one of the most popular devices in Europe, and for good reasons: it has a very nice S-LCD 4.3 inch screen with a resolution of 480×800 and great contrast, brightness and vivid colors that will make people with other smartphones envious (well, perhaps not iPhone 4 owners :-), Dolby SRS Surround support for a better video and music experience, a great 8 megapixels camera and high performance with the 1 GHz Snapdragon CPU and a whole 768 MB of RAM – more than any other smartphone in the class. All of that is present in the Inspire 4G, along with the newly added support for fast 14.4 Mbit HSPA+ on AT&T's network.
The Inspire 4G looks pretty much like the Desire HD, which is a great thing, and it's made of some very high quality metal and soft plastic materials – a trend which seems to continue with HTC (even their cheap BREW-based Freestyle is made of aluminum and looks great) and which makes the device feel sturdy and professional.
The 4.3 inch display make it very easy to browse the Internet, play games and even edit documents comfortably without a hardware keyboard – the virtual keys are sufficiently big in both portrait and landscape mode, and if you use a good predictive text keyboard (like Smart Keyboard Pro), you can type just as fast or even faster as you would on a physical one.
If you like taking pictures or videos, you'll be happy with the device's 8 megapixels camera with dual LED flash that can also shoot 720p HD videos – you can easily replace a separate point and shoot camera with this smartphone.
The hardware inside the phone is no different than that found in the Desire HD, and that is a bit weird when all the new devices boast about having a "next generation CPU", but thankfully the old 1 GHz Snapdragon is more than enough for any apps, plus the 768 MB of RAM is much more useful than a couple of hundred MHz when it comes to daily tasks, games, resource-intensive apps and multitasking.
The internal storage space is also the same as on the Desire HD, at only 4 GB, but you have an external micro SD card slot for all your data (you can get a 16 or 32 GB micro SD card for $50-100, depending on the speed), which is actually better than having all that memory inside the device (you can move it, change cards and what not).
Overall, the new HTC Inspire 4G on AT&T is a welcome addition to the US smartphones market (no longer do we have to import them from Europe :-), and a great competitor to Sprint's Evo 4G, which was actually the only device with these specs until recently.