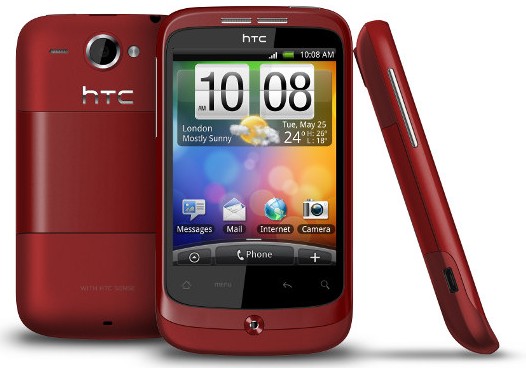 With its sombre grey finish and squarish design, you might easily mistake the HTC Wildfire for an old-school Windows Mobile phone. Turn it on, however, and you'll find an Android device offering a very enjoyable experience.
The screen resolution is limited to a basic 320×240 pixels, but the Wildfire makes up for this with the vibrance of its display and its superb responsiveness. We like the unfussiness of this phone's interface. Casually sweep a finger down its screen to unlock it and you can dive straight into the most commonly accessed features. Each of the Wildfire's large icons is clearly labelled.
You can access photos from a media card or over Wi-Fi and upload them straight to the built-in Fickr and Facebook apps. A Gallery button lets you view Face-book and Flickr updates, while the Friend Stream lets you keep on top of what's happening on the social front.
The same kind of simplicity applies to web browsing. Press the internet icon to navigate directly to any site you like.
The seven-screen setup works well and keeps the core phone functionality front and centre, where it belongs. Click the large Phone button and your con¬tacts list immediately pops up. Tap a name and you get a choice: immedi¬ately call the number listed as their primary contact, or view details of their other numbers, addresses and emails.
The responsiveness of the Wildfire's touchscreen is striking. Haptic feed-back (the subtle feeling that you're actually touching things) is minimal, but you can see the action you initi¬ated has been noted when the nippy processor gets to work straight away.
You can share Android apps as well as media over email, by text mes¬sage or on Facebook or Flickr. Photos from the 5Mp camera can be uploaded straight to any social media site, too.
One of our favourite features is Flashlight. This easy-to-find app (bottom left on the App screen) simply illuminates whatever's in the vicinity – dropped keys or your travelcard, for example. A neat touch that shows just how much thought has gone into this mid-range Android phone.
The HTC is lighter and sleeker than first appearances suggest. It may be a fairly inexpensive Android phone, but there's more than enough here to keep most people entertained, connected and informed. The responsive touch¬screen and newer Android Eclair OS give it a slight edge over the cheaper LG Optimus.
The verdict
Price (SIM-free) £229 inc VAT