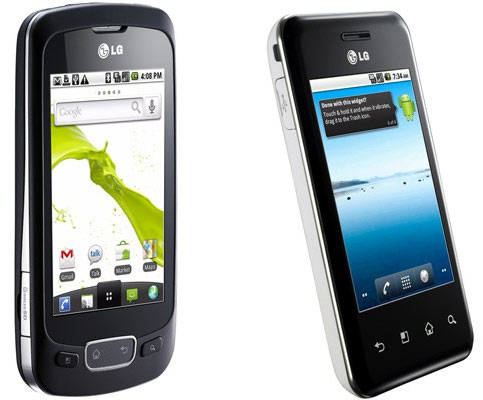 The LG Optimus One P500 is an affordable yet highly functional Android smartphone with a 3.2in capacitive touchscreen and Android 'Froyo' 2.2. The plastic chassis may be a little basic, but its soft, rubber-style back makes it comfortable to hold and we liked the curved edges on the top and sides.
Physical buttons below the display click reassuringly when pressed and provide decent tactility, making them easier to use than the hit-and-miss touch-sensitive keys on some handsets. The one design issue we had was with the volume controls, which are a little narrow, although well positioned. The power/ screen lock key requires a forceful press.
The P500's display is not as bright as some, but has a decent 320×480-pixel resolution. The capacitive touchscreen is a cut above that of the Huawei Ideos and other budget Android phones.
The Optimus One provides all the regular Android features and functions, including access to the Market, an excel¬lent notifications taskbar and seamless syncing with Google services. Froyo also brings Wi-Fi tethering, the ability to store third-party apps on your microSD card and a general performance boost. The processor limitations, however, mean there's no support for Flash in web pages.
In other respects web browsing is more than adequate, aided by multi-touch: pinch the screen to zoom in and out. The browser also offers text reflow, so text is reformatted to fit the screen when you zoom in or out.
LG has skinned the Android interface with an overlay called LG Home. This offers customisable quick-access icons at the bottom of each home screen (by default Phone, Contacts, Menu, Messaging and Web) and a main menu that separates your Android default, carrier default and downloaded appli¬cations. We loved the quick toggles in the notifications drop-down for Wi-Fi, Bluetooth, GPS, 3G and silent mode; a tap of each will turn these on or off.
The onscreen keyboard supports Swype, which lets you slide your fin¬gers over the letters you want to type in a single motion, letting the software work out the word you're trying to write. Though it sounds awkward, Swype is easy to pick up and surpris¬ingly accurate. As with most onscreen keyboards, the software will learn words you use regularly as you type.
The 3.2Mp camera takes average pictures and lacks flash. We had trou¬ble keeping the phone steady when shooting photos and video, and even slight movement resulted in blur.
Overall, this is a solid Android 2.2 handset that won't break the bank and get the essentials right, including a responsive multitouch screen.
The Verdict
Price (SIM-free) £229 inc VAT