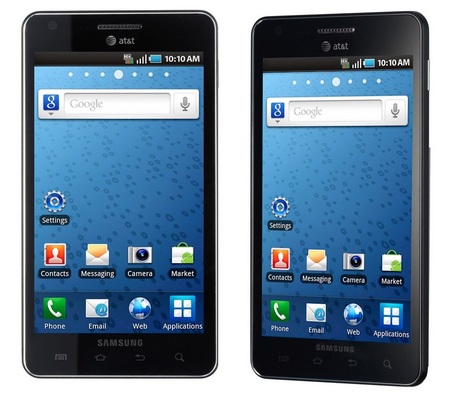 Samsung's LCD displays have always been known for their high quality and reliability, and a lot of manufacturers actually use them in their products. From TVs to computer monitors, MP3 players and smartphones – you'll definitely find a Samsung display everywhere.
Of course, Samsung uses their best display technologies in their own products, and the result is usually very high quality and also cheap, because everything is done in-house. Last year, we've seen the Samsung Galaxy S being released, which is still one of the most powerful smartphones on the market, with the best graphics adapter (perfect for games and HD videos) and a beautiful 4 inch Super AMOLED screen that had excellent color reproduction, contrast and brightness.
After the release and quite unexpected success of the Dell Streak and the HTC EVO, with their 5 and 4.3 inch displays, Samsung decided to come up with their own smartphone with a super-sized screen, and at CES 2011 it was announced that it will be called the Infuse 4G. This phone will come to AT&T's network in the US first, then it will be released in Europe this spring, and it features a 4.5 inch touch screen, which is really pushing the limits of big displays, however the overall size is not much bigger than the Epic 4G thanks to the slim borders and wide screen resolution.
The screen is amazing not only in size, but also in the underlying technology – Samsung has used their new Super AMOLED Plus technology to make the picture even better. They promise that the contrast, brightness, color reproduction, outside visibility and sharpness will be significantly better than on any other AMOLED displays. The device is also the thinnest you'll find when it's released at only 9 mm – 0.4 mm thinner than the iPhone 4.
The hardware specs have also been improved: the Infuse 4G comes with the new second generation Hummingbird processor, running at 1.2 GHz, but which can be easily overclocked to 1.6 and more, as it was recently demonstrated by a few dedicated users. Among other new features is the support for 21 Mbps download speeds on HSPA+ (or 4G, as most people seem to call them) networks, a rear facing 8 megapixels camera for photos and HD videos and a front-facing 1.3 megapixels one for video calls, Bluetooth 3.0 support and an integrated gyroscope sensor.
Of course, you'll find all the other goodies you'll need to get the most out of a smartphone. There's been no confirmation of the amount of memory that is integrated into the Infuse 4G, but we can safely assume it will be either 16 or 32 GB with no external micro SD card slot – this seems like the most popular configuration.
The device will be powered by the Android 2.2 Froyo OS, with an upgrade to 2.3 when it comes out. That isn't bad at all, but we do hope that Samsung will eventually update it to 3.0, since there are a lot of benefits on a 4.5 inch display (like the new holo-like interface we've seen on the Motorola Xoom tablet).
Overall, the Infuse 4G seems like it will become one of the most sold smartphones on the AT&T network, and it can definitely take on any other big screen monster. I also think that the Dell Streak or its rumored successor will be completely swept off the market, because the Infuse 4G has the best screen size/housing size ratio. AT&T also has other great smartphones coming this year, but the Infuse 4G definitely stands out from the crowd.