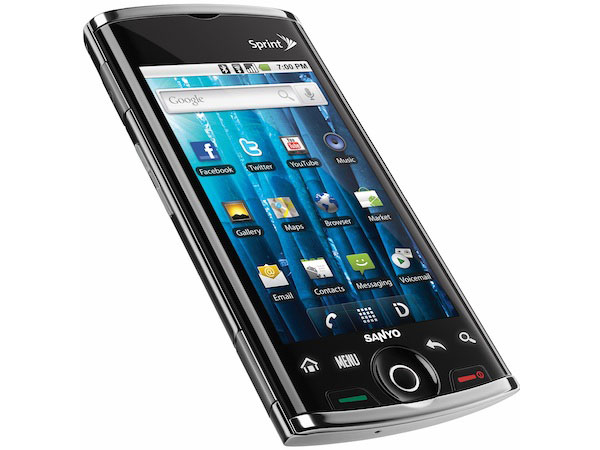 We are always looking for great gadgets that look great in hand and that has some of the best features that we can use in our daily life. However, Cricket Wireless has stepped out of the regular trend that has been going around in the market and has come up with Sanyo Zio M6000 Mobile that is nothing but just a simple device that looks simple and has simple features that meet the requirements of a normal person. The overall design of Sanyo Zio M6000 mobile is nothing new or out of the box and features are promising but nothing special.
The moment you pull out this mobile phone out of the box you will find that the design of the mobile phone is nothing great but still it sparkles innocence and simplicity which is what a normal person looks for in a cell phone. The Sanyo Zio is a candy bar designed cell phone with simple black color. The entire length of the cell phone is 4.6 inches and 2.43 inches wide.
The front side of the cell phone is dominated by the 3.5 inch touch screen that has a resolution of 400 x 200 pixels and that can support 262,000 colors. If you feel that the display is quite bright then you can change the brightness as per your preferences. The Sanyo Zio also has an accelerometer and to make it more personal you can change the display and wallpapers as per your mood. Just below the touch screen is the Menu shortcut key, Back button and the Search key. In the centre below is the navigation trackball which is very small, but at the same time it is quite responsive and friendly to use.
The Power and End key is on the right side of the navigation trackball. The dial pad and touch screen keypads are very much same as normal Android phones so there is nothing innovative tried by Cricket Wireless. The cell phone has the regular 3.5 mm headset jack, volume rocker button, microUSB charger port and microSD card slot for expanding the memory of your cell phone.
The internal memory of Sanyo Zio is 512 MB but you can add up to 32 GB of memory if you carry a lot of music and video files with you. It also has a 3.2 megapixels camera. The call quality on Sanyo Zio is the best thing it can provide and the volume is very crisp to hear. The Sanyo Zio can give you 6.9 hours of talk time and stand by time of 13 days which is very good compare to other Android cell phones in the market.