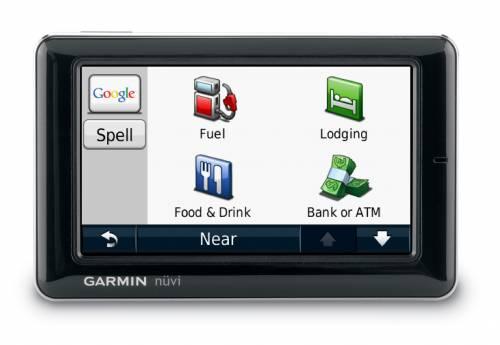 Garmin nuvi 1690
Garmin's smart 1690 offers similar on-the-fly updates to TomTom's LIVE services, but now only a whisker cheaper (free for a year, then £45/year, compared to TomTom's free for a year, then £47.50/year) The nuLink services include live traffic, Google local search, fuel prices and weather – all useful if you're a bit of a road warrior, although free phone apps now offer some of these things. Elsewhere the 1690 remains a decent navigator, with crispy graphics, lane assist and fuel-saving EcoRoute software.
Killer Feature: SIM-card powered live services free for a year
Verdict: Good value and good sat-nav, with added live services. Well worth a look…
TomTomGO LIVE 1000
Ooh, it's got a new interface. And it's built on a Webkit architecture that means, theoretically, third-party developers could write apps for it. Otherwise, it's a TomTom; slick, well-made and easy to use. The also-awesome 750 LIVE is only £170 now, too.
Garmin nuvi 3790T
This is no SIM- card-packing powerhouse, but the 3790 is the slimmest, most attractive sat-nav we've ever seen. Plus it has a wonderful high-res, multi- touch screen and tidy graphics. Desirable, pricey, underpowered: sounds like an ideal sat-nav…
TomTom Start2
TomTom has subtly updated its baby sat-nav with a couple more features, but without sacrificing the easy-to-use software that makes it so good. The new lane guidance and spoken street names will be useful, and it gets TMC traffic accessory compatibility, too.
Garmin Edge705
Not In-car sat-nav, but the Garmin Edge is such a good GPS for cyclists that we had to include it. Primarily it records data about your ride but it will also store routes, navigate you to a location and show basic maps. There's a non-map version: the 500 for £150.
CoPilot Live 8 for iPhone
With TomTom for iPhone coming in at an eye-watering £60-£80, CoPilot gets our nod for the time being. It's not quite as pretty, but has the bonus of a live traffic option for £20/month. Now has a totally free rival, Skobbier, which uses open-source mapping.
Garmin nuvi 1240
Garmin has a complex range, but cherry-pick the finest and they're fine indeed. The 1240 comes with safety camera data pre-loaded and the option of regular updates for £З0/year, plus EcoRoute software for fuel saving and optional AA city guides.
Navigon 2410
Navigon has released an update of its dinky walking-friendly sat-nav. The 2510 has new Michelin Guide-referencing sightseeing tours, taking in the best of a country's tourist attractions. It's £140 but, good news, you can update a 2410 for just £40.
TomTom Urban Rider
This motorbike sat-nav is the most affordable on the market, because it relies on its internal battery for power. (You can buy a charging mount for it, though: £45.) Still not cheap you're thinking? The waterproofing a bike-nav needs bumps up the cost.
Navigon 8450 LIVE
Decked to the gunwales with bells and whistles, including 3D city rendering, live services and digital TV, the 8450 is an example of what sat-nav devices can achieve. It can sometimes become overwhelmed by its own marvels, though, which can slow it down.