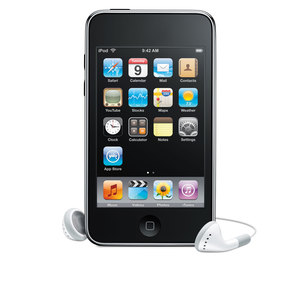 Apple iPod Touch
Apple's flagship iPod just keeps going from strength to strength. Now even slimmer, it borrows the iPhone 4's stunning Retina Display and dual cameras (one for Face Time video calls and one for shooting Flip-rivalling 720p HD video) and combines them with Apple's new A4 chip for improved graphics and speedier gaming. Capacities remain the same (8, 32 and 64GB) as do the many features that made it number one in the first place: Wi-Fi, email, maps and access to stacks of great games and killer apps, many of which are absolutely free.
Killer Feature: Hi-def video capture – who needs a Flip?
Verdict:
Excels as a music player, games machine, videocam and more. The best iPod yet.
Apple iPod Classic
Some have predicted the death of Apple's original-style iPod, citing its lack of frills and party tricks. Instead it's still going strong with a 160GB hard drive, meaning it's the only choice for gigabyte geeks. Fill it with Apple Lossless files and you'll be in audio heaven.
Sony NWZ-A845
Sony's pound-for-pound Nano rival falls short on sound (despite having noise canceling built-in and bundled headphones worth £70),but with a larger 2.4in OLED screen, 16GB capacity and hi-res BBC iPlayer support, it emerges victorious for video.
Apple iPad Wi-Fi
An update to iOS 4.2 means the iPad can now multitask, group apps into folders, print over the air and stream music and video to AirPlay -compatible kit. Combine all that with the 1024×768 multi-touch screen and you've got the best 9.7in rectangle money can buy.
Cowon J3
With a nice big 3.3in AMOLED screen (and a price to reflect it), Cowon's 16GB J3 makes video sparkle. There are features galore, including A2DP Bluetooth and a Flash player for downloaded games, but the clunky menu system and sonics could be better.
Samsung Galaxy Tab
The iPad's first major rival puts up a good tight with its quality build, Flash-enabled browser and responsive 7in touchscreen. But with a lack of quality apps and some holes in Android's armour, it's not quite the iPad-slayer we hoped it would be.
Archos 70
Suspiciously cheap but pleasingly well made, the 8GB Archos 70's 800×480.7in screen Is one of the best in class it welcomes almost any format with open arms, although you'll need to hack it with Android Market access to realise its potential.
Creative Zen X-Fi Style
Creative's portable media players always offer good value for money and the X-Fi Style is no different. Though not thrilling sonically, it offers decent video performance and supports almost all the formats under the digital sun. Doesn't like Macs, though.
Philips GoGear Muse
Chunkier than its contemporaries and with a 3in 400×240 screen the 8 or 16GB Muse's strength is in video. It feels good in the hand and the menus are easy to navigate, although left-handers might be put off by the right side-only button layout.
Apple iPod Shuffle
A massive about turn from Apple means the Shuffle has regained its buttons and kept the VoiceOver spoken track names – a neat way to make up for having no screen. Just 2GB storage seems stingy but it's a great-sounding, simple player.