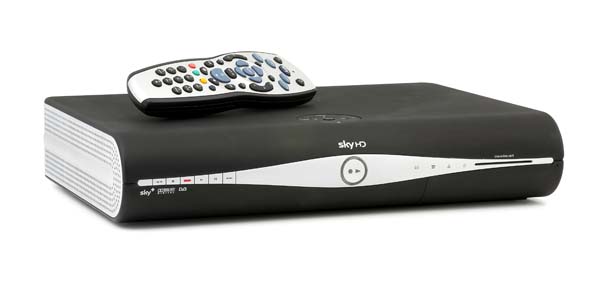 Sky+HD
Sky's add-on subscription service has expanded to offer over 50 channels of high-definition content, depending on the package you choose, including Sky One, BBC HD, Sky Sports HD and pay-per-view HD movies. The digibox doubles as a hard-disk video recorder with 180GB of usable storage, an HDMI output and a foolproof user interface. It's now the standard PVR from Sky, and serious HD telly addicts even have the option of upgrading to the Sky+HD 1TB box for even more hi-def hoarding.
Killer Feature: The all-new Sky Guide, the undisputed king of EPGs
Verdict: Pin-sharp hi-def TV and effortless one-touch recording with some neat bonus features
Virgin Media V+ HD
The new V- box is slimmer, better looking and now a real match for Sky+HD. As before there are three tuners, a 160GB HDD and an HDMI out, but it now upscales standard -def TV even better, and Virgin has upped the amount of HD content available.
Humax HD-FOX T2
This initially seems a bit pricey given it doesn't record, but you do get three channels of Freeview HD (plus all the regular Freeview channels), DLNA streaming plus the recent addition of Sky Player compatibility. So actually, it's a bit of a steal…
Humax Foxsat-HDR
The Foxsat-HDR was the first PVR to support Freesat's HD system and, even with numerous new entries, it's still leading the pack. You get excellent recording quality, a 320GB HDD, twin tuners and a suave EPG that lets you watch while you navigate it
Virgin Media V HD
if you like the sound of Virgin Media's HD service, but either don't need the V+HD box's recording function or have a more limited budget, this simple cable receiver Is for you. It offers access to both live and on-demand HD and performs extremely well.
Technisat HDFS
As a single-tuner Freesat HD box, the HDFS isn't technically a fully-fledged PVR, but it soon becomes one if you connect an external hard drive or memory stick to one of its two USB sockets. Plus there's an SD slot and a Wi-Fi adaptor for streaming.
Panasonic DMR-BW880
This is the perfect PVR for true geeks. It sports twin Freeview HD tuners, 500GB of storage, can archive to recordable Blu-ray and stream media from your network, or serve recordings around your home. Extremely clever, but a little complex for some
ВТ Vision Vision
BT's online on-demand service is a decent package of both content and quality, so long as you're happy to tie it in with a broadband and phone contract. The only real shortfall is the fact that there's no broadcast hi-def content on offer.
Philips OTR5520
Cute, easy to use and endowed with a great picture, this slick little Freeview HD box is a simple, solid path to hi-def viewing. There's also an Ethernet connection, making the '5520 ready for suitable online and on-demand services once they launch.
Technika Smartbox 8320HD
More than just a Freeview HD PVR, the Technika (sold through Tescos) can stream iPlayer and Sky Player content plus on-demand films from FetchMovies. It'll take MKVs from your computer too – the only shame is that it's prone to the odd crash.