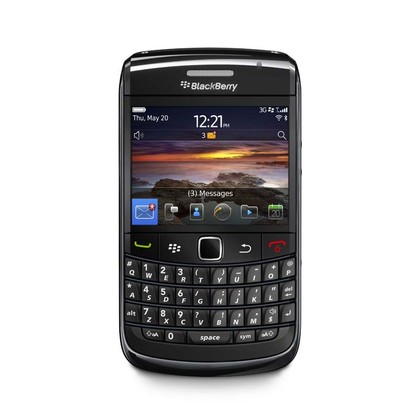 Near the end of last year, we kept our fingers crossed in the hopes of spotting the third iteration of the BlackBerry Bold series, the BlackBerry Bold 9780. Fortunately, the unit came into retail availability within December, barely making 2010.
When we place the Bold 9780 side by side with its Bold 9700 predecessor, there's seemingly no difference from the exterior. In fact, you are looking at the exact same dimensions for the Bold 9780 and Bold 9700. As such, you'll have a similar handling experience between these two BlackBerry devices. The optical trackpad is still present, and like what we've said previously, the trackpad can be quite sensitive and takes some getting used to. On the other hand, its physical QWERTY keyboard is stilt easy to utilize even with its compact design.
So what exactly was improved with the updated BlackBerry Bold? A great deal it seems, but all under the hood; from improved hardware to the new BlackBerry 6 operating system which made its appearance earlier on the BlackBerry Torch 9800. Hardware wise, the improvements were minimal, with a boost to its onboard memory from 256MB to 512MB, as well as a new 5 megapixel camera. This is good news for the mobile shutterbug, since the camera does come with significant improvements in image quality.
The overall experience using the Bold 9780 is remarkably smooth, but we aren't exactly crediting it to the 624MHz processor within. Instead, we think the renewed BlackBerry 6 software plays a major role in all of this. Focusing on populating the home screen with various pull up and drop down menus, the experience is slightly different from the touch screen interface found on the Torch 9800. Instead, you'll depend solely on the optical trackpad to scroll through the various menus, followed by clicking on the trackpad to select highlighted menus.
it's also important to note that the learning curve on the new BlackBerry 6 software is just as manageable from our earlier run on the Torch 9800. While the Bold 9780 is seemingly great, the letdown is in its 2.44 inch display, which is a tad small for our liking. If you can look past that fact, excellent battery life on the Bold 9780 means that we clocked more than two days of constant data usage. If you're still holding onto the very first BlackBerry Bold 9000, we'd say it's high time to upgrade. For the Bold 9700 users, the improvements aren't astounding, but if you do have some spare cash, this is a decent smartphone to start 2011 with.
BlackBerry Bold 9780 Specs:
Size (LxWxD) 4.29″ x 2.36″ x 0.56″ / 109mm x 60mm x 14mm
Weight 122 g / 4.3 oz (includes battery)
Operating System BlackBerry 6
CPU Speed 624 MHz
Memory
– 512 MB internal flash memory
Expandable Memory
– 2GB microSD card included
– Exapandable memory with support for microSD cards
Battery
– 1500 mAhr removable/rechargeable lithium-ion battery
Talk time: Up to 6 hours (GSM or UMTS)
Standby time: Up to 22 days / 528 hours (GSM), up to 17 days / 408 hours (UMTS)
Music playbook time: Up to 36 hours
Display
High-resolution 480×360 color display
Camera
5.0 MP camera, flash, auto focus, face detection, image stabilization, scene modes, 2X zoom, video recording
Video Camera
Normal Mode: 640 x 480 pixels
MMS Mode: 176 x 144 pixels
GPS
Integrated GPS with A-GPS (assisted GPS) ready
WiFi Wi-Fi Band: 802.11b/g, support for UMA (carrier-dependent)
Bluetooth
Bluetooth v2.1; Mono/Stereo Headset, Hands-free, Serial Port Profile, Bluetooth Stereo Audio (A2DP/AVCRP) and Dial-up networkign (DUN)
Audio & voice
3.5mm stereo headset capable; Built-in speakerphone
Network
Tri-band 3G HSDPA networks: 2100MHz/1900MHz/850MHz
Tri-band UMTS networks: 2100/1900/850/800 MHz and 2100/1700/900 MHz
Quad-band GSM/GPRS/EDGE networks: 850/900/1800/1900 MHZ