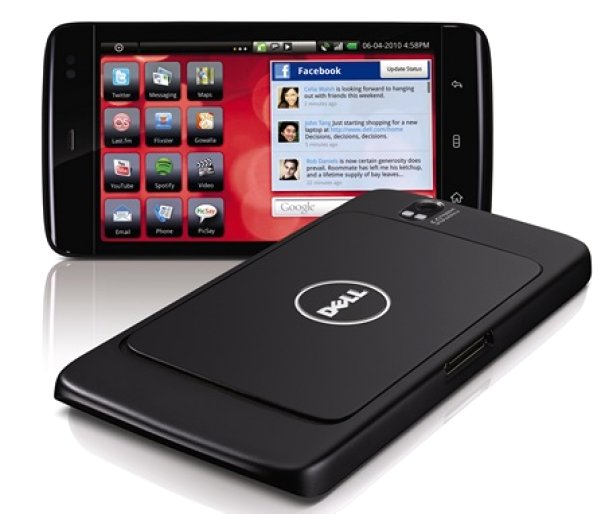 With the Streak, Dell became the first of the mainstream PC companies to launch a smartphone/tablet hybrid. It's a 3G device powered by a 1GHz Snapdragon processor and weighs just 220g. The Streak is much lighter than an iPad with a Sin capacitive touchscreen and packs some powerful features into a shell just shy of 10mm thick.
The slim design is lovely. Overall, it is about the length of an adult hand but, at 79mm, is too wide to comfortably grasp in a fist. However, it will fit in a large pocket without falling out, and easily slips into a handbag. Unlike larger tablets, such as the 9.7in iPad, the Sin Streak can be used for voice calls as well as internet access; it's available on 02 from £35 per month.
We liked the bright and sharp 800×480-pixel display with its tough Gorilla Glass front. This limits the likelihood of damage, but retains enough touch-sensitivity to allow you to type quickly and efficiently on the onscreen keyboard, a feature often criticized as impractical on smaller Android phones.
As with other Android devices, it takes around four seconds for the Streak to start up. If you don't like the background that appears, just swipe a finger across the screen horizontally to bring up alternative home screens. Holding and swiping allows you to change or delete them. A multiple-screen layout provides access to basic phone, email and web functions.
A drop-down menu indicator arrow at the top left of the screen is used to bring up a list of all currently installed apps, while dragging a program to the middle of the home screen allows you to quick-launch it. Messages and alerts -including the status of any downloads
you've initiated – are shown in a central bar at the top of the screen, while a float¬ing bar in the middle of the desktop shows the strength of the device's Wi-Fi and Bluetooth connections.
The touch-sensitive hardware buttons for Back, Unlock and Home at the right edge of the display only work when the screen is active. When the display goes blank after 30 seconds to preserve battery, you always have to press the power button followed by the unlock button before you can access any features. It's also a little odd that you may be listening to a music track but you need to press buttons unrelated to the media player in order to activate the screen to change songs.
The Streak is a very different propo¬sition from typical Android phones. You'll find yourself using it in landscape mode, for a start. And although it can be used to make phone calls, it's not something we envisage being one of this unwieldy handset's primary functions – unless it's paired with a Bluetooth headset. We expect the Streak to be more useful in a car, for example, where its large screen and Google Maps could earn their keep.
Contact management isn't as solid as on Android 2.0 handsets, which support threaded conversations and contact forms, but it's straightforward to bring up the keypad to tap in a number or your contacts list to email, text or call someone. The Streak is ideal for use as an entertain¬ment device and for casual gaming. We downloaded and had fun playing Frogger, for example. Media credentials are strong too. Album art is displayed by default, and we like the simple, clear setup of the Music Library. An album art carousel makes it easy to get to your chosen tracks. You can shuffle or loop-repeat tracks or albums with a quick click of an onscreen button. Even at the max, the volume doesn't reach uncomfortable heights, but we found playback on the tinny side.
The 5Mp camera is a great asset and boasts pretty accurate touchscreen focal-point selection. Flash, zoom and a video camera are included. There's a second, VGA-re solution camera for video calls.
Unfortunately, we found the Dell Streak's battery consumption an issue – you'll probably need to keep a charger handy. Left in standby or screen-off mode overnight, it needed charging the next day. This is rather a drawback, since this is a phone as well as a tablet device, but with a Sin screen and a 1GHz processor to power, not really surprising. With built-in 3G and a lovely 5in screen, the Dell Streak is handy for web browsing and email use, and is a desirable media player. Just watch the battery consumption.