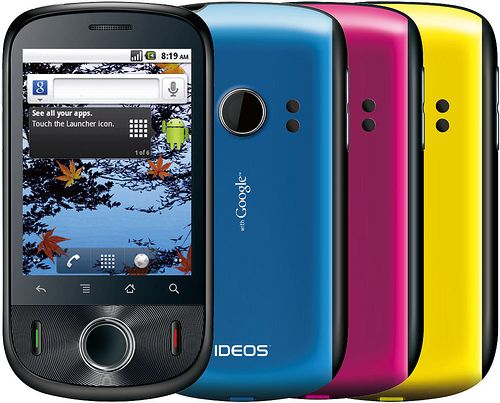 Marketed as the second Google phone, the Huawei Ideos is a compact handset that neatly illustrates the shift in focus between the first and second wave of Android devices.
Based on 'Froyo', the 2.2 iteration of Google's Android OS, the Ideos is aimed at the budget end of the smartphone market and represents Huawei's big push for mass adoption outside its native East¬ern markets. Until now, the company was better known to consumers as the hard¬ware maker behind 3G mobile broadband dongles and 3G hubs such as the MiFi.
Unlike most smartphones, the Ideos has a brightly coloured backplate (most others come in unremitting black, though we're pleased to see Sony Ericsson has recently begun offering a white version of its superior 8.1Mp X10 Android camera-phone). Other colour options are available, and it's notable that the back-plate is much easier than most to remove – good news if you need to swap the SIM card or want to customise its look.
Our review unit rocked a shiny cyan blue that gave it an illusory glow when it was placed on a light-coloured surface. There's no disguising that this is a fairly cheap-feeling handset, but we've certainly enjoyed using others far less.
As is standard for most smartphones now, the display accounts for two thirds of the total frontage. The screen is a modest 3in across with a resolution of 320×240 pixels. Anyone accustomed to the pin-sharp display of the iPhone 4 or other high-end smartphones will find this pedestrian, but given the price tag of just £150 or so, without the need for a lengthy contract, it's a small compromise.
The other aspect of note about the screen is that it doesn't support multitouch. This aside, finger-based navigation is fast and responsive. A Google search bar sits prominently on the front page and, unlike other screen elements, can't be relocated by dragging it with a finger. At the other end of the bar is a microphone button that allows you to speak a search term. It recognised the phrase 'PC Advisor', though its search results revealed that Google Maps needs to update its listings.
In common with all the late 2010 Android devices we tested, the Ideos' display is bright and colourful. You can flick its five screens from side to side in what's now a signature feature of Android devices. You don't get fancy visual extras a la HTC or Samsung, but this allows the Ideos to be an excellent ambassador for Android 2.2.
A sweep to the left brings up local weather information and news headlines delivered as RSS-style nuggets in Top Stories, UK, Sport and Entertain tabs. This at-a-glance listing is much easier than having to fire up a full web page, but we noticed that the content wasn't necessar¬ily as up-to-date as you might expect. Several hours after Wayne Rooney agreed new contract terms with Manchester Utd, the Ideos' Sports link was still unaware.
Getting online, however, was fast and painless. Now that 3G has widespread coverage it's become more reliable. Logging on to our home and office Wi-Fi networks was also straightforward.
Touch-sensitive hardware buttons below the screen are used to initiate and end calls, while a large wobbly central button wakes up the screen from its unlit state and is used for moving up and down menus. Other navigation functions are covered by touch-sensitive buttons at the bottom of the display and onscreen. The Settings menu lets you view on-device storage space; manage, mount and for¬mat SD cards; and change connection and accessibility options. The latter prompts you to download a free screen reader from the Android Market.
Text-to-speech and voice recogni¬tion options include the (parochial or sensible, depending on your viewpoint) ability to block offensive word recogni¬tion, so your little lambs can't use speech search to find sites they shouldn't.
One of the new features punted in Android 2.2 is support for Flash video. This battery-draining option is omitted from lower-specification handsets such as the Ideos, but our abortive tests on the pricier Motorola Milestone 2 suggest users aren't missing much. More general web surfing was fine, considering the fairly cramped screen and the resulting need to zoom. The accelerometer in the Ideos is quick to respond to changes of orienta-tion, so you can at least read in landscape.
As with most Android phones, you need an SD card in place to use the on¬board camera. At 5 megapixels this is now just about average; it can't hold a candle to the Motorola Droid X or SE Experia 10, both 8Mp cameraphones.
If you're keen to get into smartphones but have a limited budget, the Ideos, co-developed with Google, is a great start. Running the latest Android 2.2 OS and with customisable coloured backplates, it offers the strong appeal of Google's customisable platform without the drag of an expensive and lengthy contract.