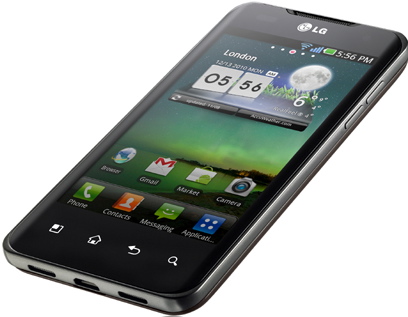 The rumors about the LG Star have come true – the smartphone was officially announced as the LG Optimus 2X (though I think Star would've been better) at CES 2011 and it is indeed running a dual core processor from NVidia, the Tegra 2. LG wanted to release a dual core smartphone for more than a year now, and after their deal with Intel to create a x86 smartphone on their new Atom processor fell off (the chip was drawing too much power), they started looking for other partners to build a powerful device with, which they found in NVidia.
The first smartphone to run a dual core processor
The LG Optimus 2x was the first dual core smartphone made official, just a bit before Motorola announced their Atrix. Running the Tegra 2 platform automatically makes it not only twice as fast as a 1 GHz Snapdragon (because each core runs at 1 GHz) in any applications, but also means that graphically intensive apps will run much better, thanks to the integrated GeForce graphics adapter and hardware video encoder/decoder.
The GeForce adapter is at least four times as fast (!) as the one in the current Snapdragon CPU found in the Nexus One and a ton of other Android and Windows Phone 7 smartphones, and even if you compare it with the current 3D champion Power SGX540, present in the iPhone 4 and Galaxy S, it's still faster by 50-100%! This means it's seriously fast in any apps, and at the same time, it draws the same amount of power as the old solutions!
The Tegra 2 in the Optimus 2X is aided by 768 MB of RAM, which is more than enough for any application you can think of.
The first smartphone to film in 1080p
Yes, the Optimus 2X not only has the most powerful SoC in the world, but it also takes full advantage of it. Whereas Motorola made a weird decision to use a 5 megapixels camera with 720p video recording in their Atrix, LG gave it all and implemented a very nice 8 megapixels unit whose main feature (besides taking excellent pictures) is the ability to film videos in Full HD 1920×1080 resolution at 30 frames per second.
You might consider that excessive, but if you check the test videos, the quality increase is definitely there, so it's not a useless feature by any means. You can definitely replace a Flip camera with this smartphone and use it anywhere you want (without the risk of forgetting it at home). There is also a much less impressive 1.3 megapixels camera in the front, which is very useful for video calls and taking pictures of yourself :-).
And if you want to output your masterpieces to an external device, you can do it in full HD resolution using the integrated micro HDMI port a welcome addition to any smartphone (not to mention you can use it for presentations or gaming on the big screen!).
Aside from the extreme performance and high video resolution, the Optimus 2X packs other great features. The 4 inch WVGA screen displays 16 million colors and has great contrast and brightness levels, while the integrated 8 GB of Flash memory and an external micro SD card slot let you store as much data as you want – very useful for a smartphone which burns through the memory at 20 Mbps filming video clips.
The device will run Android 2.2 when it comes out, but the upgrade to 2.3 will follow soon enough, so the buyers need not be worried about having access to the latest features the OS can offer. The release date is already set for the end of January in Korea and beginning of March in Europe and possibly in the US, as well.
The performance and features of the Optimus 2X make it a worthy competitor to anything else on the market, and if the price is right, it can easily outsell any other devices of this form factor. After all, who would choose an inferior device over a dual core, GeForce equipped monster of a smartphone?