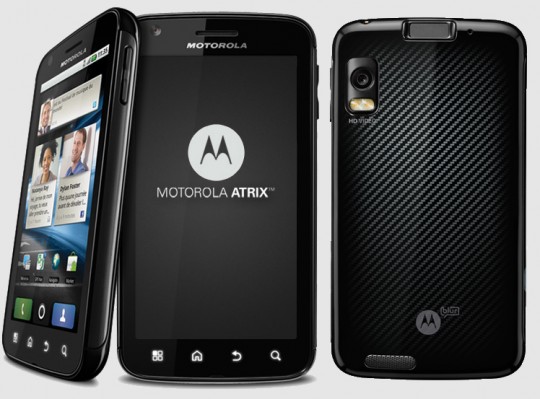 The dual core era for smartphones is finally here, and a lot of manufacturers are trying to get into the game early. Motorola has already demoed the first tablet running not only a dual core Tegra 2 System-on-Chip, but also the Android 3.0 Honeycomb OS, which has an interface designed specifically for tablets (along with the usual smartphone one) and is in the alpha stages of development.
Not stopping at that, Motorola has also shown off their new dual core smartphone, the Atrix 4G, which is the most powerful smartphone currently on the market (it will start selling this spring). It also incorporates a few features that make it very unique and distinguishable from the rest of the crowd.
Highest performance ever on a smartphone
The Tegra 2 SoC from NVidia is currently the only solution to feature a dual core processor (each core running at 1 GHz), but its innovation doesn't end there: the platform also has the most powerful graphics adapter for mobile devices (an ultra low voltage variant of a GeForce chip) and features an integrated HD video decoder/encoder, which means users will be able to watch AND record 1080p HD videos without any problems. Although the Motorola Atrix itself only records 720p, the LG Optimus 2X has already demonstrated the 1080p recording capability.
The Atrix also has a whopping 1 GB of DDR2 RAM – more than you'll ever need on a smartphone, considering a lot of desktop computers and laptops still ship with that amount of RAM and work perfectly fine. But there is another reason for the increase in RAM capacity.
The Atrix can be used as your only personal computer
The Motorola Atrix literally brings us the future with its capability of replacing a desktop or laptop computer entirely. The feature is in its early stages, but we can already see how it can be useful – imagine having one device for all your computing needs, always with you, and not needing to switch between devices and operating systems.
Aside from the Android OS, the Atrix has a special second Linux-based OS that is used for either playing multimedia files when connected to an external display, or for using the phone as a computer, with an external monitor, keyboard and mouse. The Webtop OS has a full-fledged Firefox browser with Flash support and you can use it to comfortably browse the Web, edit documents, show presentations and much more.
Motorola sells two docks that let you do these tasks – one is a simple dock that you can use to connect any external devices (like a display, keyboard, mouse, flash drive or even projector) and one that turns your Atrix phone into a netbook – it has a big battery, integrated keyboard and touch pad and a nice 11 inch screen with a 1280×800 resolution.
The first qHD display on an Android smartphone
The Motorola Atrix has a very nice 4 inch display that uses the new quarter Full HD resolution – 960×540 pixels – just a bit short of the iPhone 4's 960×640, but still enough to make everything on screen look very clear and sharp. There is a bit of a confusion with the name, though, as Nokia referred to their 640×360 resolution as qHD as well, which is true if you think about it, so maybe Motorola should start calling it qFHD – makes more sense :-).
Strangely, the Atrix will be running Android 2.2 when it's released, but an upgrade to 2.3 Gingerbread is imminent, and hopefully Motorola will also update it to 3.0 when it comes out (though you shouldn't get your hopes up). Still, even this version is enough for users to have a great Android experience – it has everything you may need, including the much revered support for Flash and advanced JavaScript in websites.
Overall, the Atrix has produced quite an impression on everyone, and it definitely was on par with the superb Xoom tablet, which will be released at about the same time this spring. Motorola definitely has something great going on here, and we hope they will be continuing the trend.
Motorola Atrix Specs:
* Network:
GSM (850, 900, 1800, 1900),UMTS (850, 1900, 2100)
* Dimensions: 117.75 x 63.5 x 10.95 mm
* Weight: 4.76 oz (135 g)
* Memory: 16 GB internal memory,upto 32 GB external card memory support
* Resolution: 540x960p Capacitive touch screen,Multi touch,Proximity sensor,Light sensor
* Battery: 8.80 hours talktime,264 hours standby time
* Operating System: Android 2.2
* Hardware: 1Ghz Nvidia Tegra 2 Dual core processor, 1GB RAM
* Camera: 5MP rear camera with dual LED and 0.3MP VGA camera for video calling
* Video:
1280x720p video playback and 720p recording,MPEG4, H.263, H.264, DivX, XviD, WMV
* Audio: MP3, AAC, AAC+, eAAC+, WAV, MIDI
* Connectivity:
Bluetooth 2.1,Wifi (802.11b, 802.11g, 802.11n),microUSB,3.5mm headphone port,HDMI 1.3,DLNA