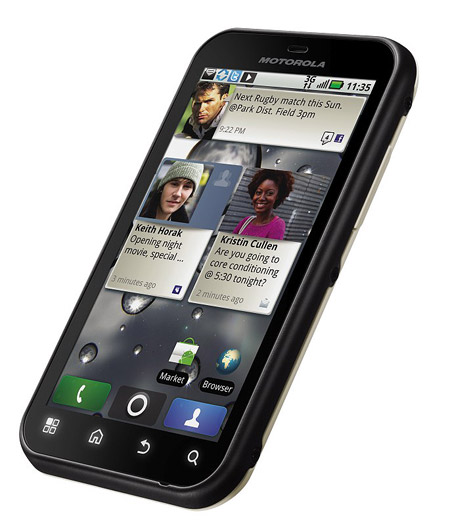 Motorola's Defy seems broadly similar at first glance to the Huawei Ideos, but on closer inspection the differences are numerous. It runs Android 2.1 on an 800MHz proces¬sor and has a 3.7in Gorilla Glass display that packs in 480×854 pixels.
The display is brighter than average and manages the clever trick of taking up almost the whole of the device's area; few smartphones have bezels as slim. We also liked the rubberised rear, which prevents the Defy getting scratched or being easily knocked off the edge of a table.
The non-slip casing extends to the sides, and as a result the protective covers for the headphone jack and charger port stick out somewhat and aren't easily pushed back into place. Even so, if you're after a trim smartphone that's built like a tank, the Defy is a real contender. It's even achieved IP67 certification, indicating that a few seconds dunked somewhere unpleasant won't kill its electronics.
Another success in the design is the lockable backplate. A plastic slider allows you to release the battery cover when required; there's then room to insert a fingernail to remove the backplate and get at the battery or change the SIM card. So many phones make it impossibly hard to perform this simple but common task.
Another thoughtful inclusion is the Swype text entry app. Compared to nor¬mal typing, this system lets you quickly pick up speed when composing messages and performing searches. When we first tried out the Defy we thought its interface was rather clunky and its cramped soft¬ware keyboard a trial to use. We soon discovered that was because its default setting was expecting us to use Swype.
The trick is to glide your finger from character to character rather than stabbing at each one in turn. Though you have to discipline yourself to do things differently, once you're accustomed to the scheme it makes text entry much faster. It's also clever enough to learn as it goes, making light work of accurate input.
Unified messaging, and streamlining all those social networks you feel duty-bound to keep informed of your every thought, has become an important area for handset makers and mobile operators, so it's no surprise to find Motorola having another go at its Motoblur idea here. Rather than competing with the social network updates within the 'Eclair' 2.1 version of Android, this proprietary social user interface now adds the ability to store and easily retrieve details of those precious contacts you maintain on Facebook, Twitter, MySpace and so on. It's a useful implementation of the 'cloud' idea that manufacturers are all talking about.
Surfing the web on the Defy is a pain¬less process. You can directly type in the web addresses you want to visit, rather than being hobbled by an oper¬ator's portal, and when you get to your chosen website you can scroll and page-flit with ease. Support for pinch-to-zoom and a relatively responsive touchscreen help, though we noticed a fair amount of lag when we tried to navigate having already got a handful of apps on the go.
With 3G, A2DP Bluetooth and Wi-Fi onboard, the Defy is all set for connecting to the internet almost anywhere, and you could certainly do worse than use it for streaming audio. A Connected Music Player lets you do just this, while the excellent DNLA app we liked so much on the Motorola Droid/Milestone also makes an appearance. This lets you push music, photos and video around your wireless home network and enjoy those tracks you've bought on the Defy on, say, your home hi-fi system.
The camera isn't quite as good as its 5-megapixel billing suggests. You get an LED flash and the option of tagging pictures with location data, but actually taking pictures is rather an awkward business. You need to go into the onscreen menu, as there's no hardware button to take snapshots on the outside of the handset. Nor were the shots we took anything to be proud of. Video capture is limited to VGA resolution, though view¬ing on the Defy is rewarding thanks to the crisp, detailed screen.
Aside from the media-streaming app and Motoblur, there are few extras. Motorola largely lets Eclair's Google apps do the talking. Google Mail, Maps, Latitude, Talk, News and Weather are all pre-loaded. Anything else can be downloaded from the Android Market and stored on the Defy's 2GB internal memory or an inserted microSD card; capacities of up to 32GB are supported.
One addition is a barcode scanner app. We had merely to waft the Defy's screen over the barcode of the latest Sebastian Faulks novel and it popped up with a snapshot of the barcode itself plus links to a product search, book search, content search and Google Shopper. You can also use this with 3D barcodes and go straight to items of interest or Android apps to download.
A feature of particular note to visually impaired users is that Motorola is continuing to offer support for T3 and other hearing aid technologies along with text telephony. The Android operating system includes support for voice commands.
The engineering feat that enables the Motorola Defy to cram in a 3.7in display within its 59x107x13mm frame means you get every bit as much screen space to view web pages as you do on a fully-featured handset such as the Samsung Galaxy S. Clearly aimed at the less dainty smartphone owner, the Defy is a small but solid power¬house that isn't afraid to take on rivals.