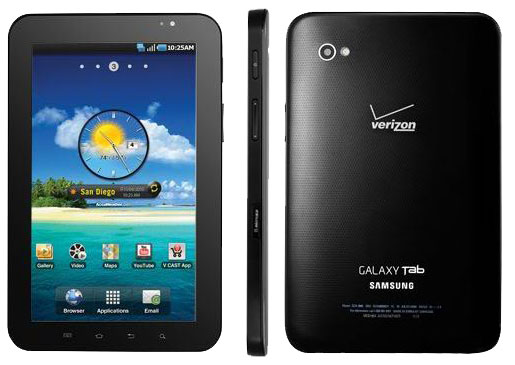 Arguably the closest Android has to an iPad rival, the Galaxy Tab offers the same basic features: wireless internet, a multitouch-controlled screen and a marketplace full of apps. It also has 3G as standard rather than as an option. The most obvious difference is that the 7in screen makes it considerably smaller and lighter.
The Tab is equipped with version 2.2 of the Android OS, codenamed 'Froyo' – a word familiar to Americans, though perhaps not the rest of us, as a portmanteau of 'frozen yogurt'. Yet not even this latest release is sanctioned by Google for use in tablets, as opposed to smart¬phones. 2011's Android 3 is lined up for that.
Samsung was obviously keen to get its tablet out sooner rather than later – and the result certainly isn't half-baked. At £70 more than the entry-level iPad, however, it has a lot to do to make a case for itself.
Many people will find the smaller screen isn't a bad thing: the iPad's relative bulk makes it tricky to hold up with one hand or slip into smaller bags and pockets. But the 16:9 wide screen display is of a noticeably lower quality than Apple's, and the Tab itself is made of plastic, lacking the quality feel of the aluminium iPad. And while Apple's iOS interface is unsurprisingly smooth on its own hardware, Android runs rather jerkily on the Galaxy.
On the positive side, it weighs a modest 385g and is comfortable to hold. At just 12cm across, it can be gripped quite easily in one hand. Both tablets offer a similar number of pixels – 1024×768 for the iPad, 1024×600 for the Samsung -which means the Tab's are more tightly spaced. This should make it look sharper, but we weren't convinced. The duller LCD and poor viewing angles let it down.
We were impressed with the responsiveness of the Tab in core navigation tasks such as swiping sideways on the home screen. Motion here feels smooth. Text entry via the onscreen keyboard was a bit sluggish, though, and we didn't like the clonking keypress sounds that lag a fraction of a second behind your fingers.
Web browsing is acceptably fast if you've got a good 3G connection, and we found pages loaded quickly over Wi-Fi. How¬ever, pinch-to-zoom in Android is still a stuttering experience, especially magnified to 7in proportions. We also spent too much time scrolling up and down pages to get to the navigation but-tons – something we're sure the 'proper' version of Android for tablets will address.
Unlike the iPad, the Tab supports Flash, but on Flash-heavy sites you just get held back by the ads. We also saw some comedy lip-sync issues with YouTube videos. The YouTube app's H.264 player [supported by iOS]is much better.
One thing the iPad can't handle is phone calls. The two speakers at the bottom edge of the Tab produced reason¬ably clear sound, and combined with a mic built into the left of the case they make it quite straightforward to use as a hands-free mobile. Call quality was easily good enough on our review sample, which came with a Three voice-and-data SIM card, available from £10/month for 100 minutes of talk time and 1GB data.
Video calling capabilities should come into their own once Skype for Android video support arrives. The Galaxy Tab has two cameras, pointing fore and aft, for the purpose.
A headset is included in the box for more personal chatting, and plugs into the standard jack at the top of the device. On the right of the case are a standby/sleep button (difficult to engage without fingernails), volume up/down rocker switch and two flap-covered slots for regular SIM card and microSD memory card. 16GB of flash memory is built in.
Even if you do need 3G, which pushes up the price of a 16GB iPad to £529, that's only £30 more than the Tab. Samsung has set itself a nearly impossible task in competing with Apple, and has certainly succeeded in getting some attention.
But the Tab is really no match for the iPad. In its favor, it's more portable and lets you leave home without a separate mobile phone if you really want to.