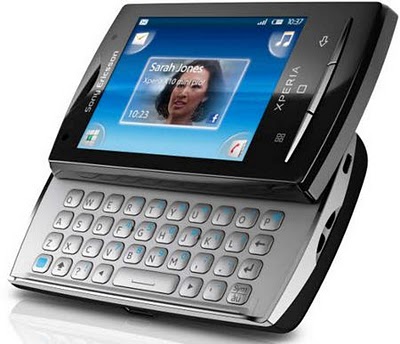 This smaller version of the X10 weighs 120g and has a slide-out keyboard. The tactile rubber back keeps it firmly in your grip, but conceals a metal shell with rather sharp edges.
Hardware buttons are limited to Home, Back, and an Android button that unlocks the phone and brings up the onscreen keypad. Icons sit in each corner of the screen for email, phone, music and contacts. You can optionally sync con¬tacts and import from your SIM. A subtle up arrow opens up the main bill of fare when tapped; swiping across the screen lets you view more features, including the Wizepilot navigator and various syncing and business email options. To see more apps, swipe across to several successive screens. Holding down a finger on any item allows you to launch or move it.
It took a matter of seconds to set up our existing Gmail account on the Mini; composing, sending and receiving mes¬sages was rather more long-winded. The micro keyboard is just shy of 7cm across, and the keys themselves are almost painfully hard to type on. We often mis¬typed and were frustrated by the Mini's inability to guess the words we wanted or auto-type corrections. Fans of BlackBerry and iPhone will find this an issue.
Visually, the Xperia Mini 10 is the best of the lower-cost models we tested. Its compact interface, with less informa¬tion per screen, ought to work, but the cramped display does it no favours and, despite crisp text, web browsing isn't fun.
The 5-megapixel camera offers flash and autofocus and a hardware shutter button. In portrait mode we were able to take brightly coloured images and video footage of static or slowly moving items, but it's a bit clunky for fast-moving objects such as a lively pet.
Sony Ericsson has been brave to try to fit the extensive functionality of an Android smartphone into such a compact device. It hasn't been a wholly successful exercise, but we like the way the Mini presents clean screens to flick through, directly launching the features you need.