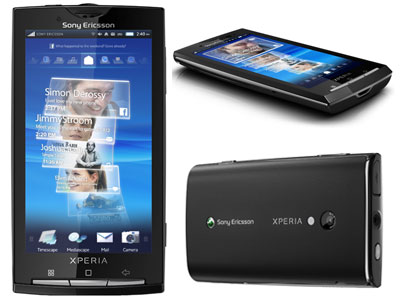 The Xperia X10 is an innovative Android Eclair phone with a 4in touchscreen. Its superior 8.1Mp camera was the best of those we've tested to date: it has face tracking and took clear, sharp images with vivid colour.
We found the X10's squared-off rear uncomfortable, but the multitouch screen responded beautifully to the lightest tap. Even without any haptic feedback, the onscreen Qwerty keyboard is easy to use.
The excellent Timescape feature displays missed calls, text message pre-views, emails and social network updates as sorted photo tiles. The Xperia auto¬matically imports contacts from your SIM, and integration with social networks such as Facebook and Twitter worked well too.
An upward swipe on the home screen reveals a list of installed software, from where you can also access the Android Market. Unique to the X10 is Mediascape, which makes your music, photos and videos accessible in one place.
A MediaGo app transfers between PC and phone, and media management extends to podcasts, audiobooks and anything on a media card. It also works with online music stores and PlayNow. The 16GB internal memory can be supplemented with up to 16GB on microSD. The GPS quickly located us and faultlessly kept up in the pre-installed Navigation app.
Overall, the Sony Ericsson Xperia X10 is one of the best Android handsets we've seen. It's ideal for buyers who want great photos or need to keep up to date with activities on their social media networks.