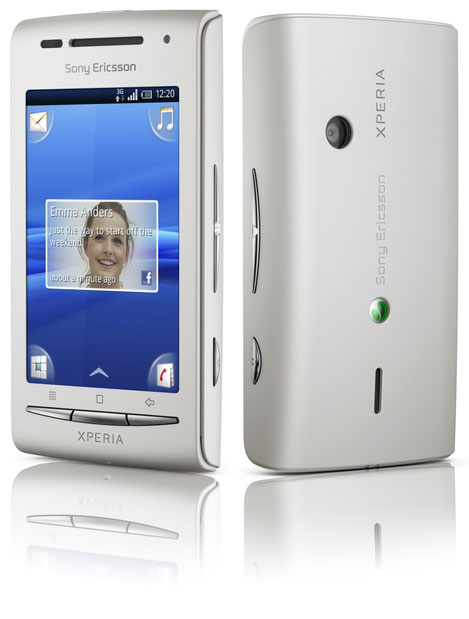 Sony Ericsson has further expanded its Xperia family of mobile devices to include the midsized xperia X8, joining the ranks of the X10, the smaller X10 mini and the mini pro. Question is, do we really need another rehashed Xperia device? We set out to see if the X8 has enough character to set itself apart from the rest.
The classy looking X8 comes with a matte white plastic surface, a departure from its glossier counterparts. Not that we are complaining, since it makes maintenance a fuss free affair. The X8's diminutive 3 inch screen dictates its size, making it small by today's smartphone standards. This makes it easy on the hands, with a solid grip that's aided by a rather sizable thickness. That doesn't mean that the X8 is overly chunky, it's actually thinner than both X10 minis.
Sony Ericsson's ingenious four corner touchscreen Ul returns on the X8. When it first made its appearance on the X10 mini series, this interface attracted attention with its fluid use on phones with tiny screens; this convenience is replicated in the X8. The handy Timescape is also available here, keeping all your major social networking needs in one place. Additionally, Sony Ericsson has also preloaded three apps, namely ShowNearby, Evernote and TracklD.
The messaging experience on the X8 is hardly perfect, but we didn't have too many reasons to complain about, while the QWERTY keys are too thin for our liking, typing was fairly smooth with few errors. The user experience here is commendable, thanks in part to a responsive touchscreen and a decent 600MHz processor.
In the imaging department, the X8 takes a nosedive in quality.
Equipped with a rather basic 3.2 megapixel camera with no auto focus and flash capabilities, you are pretty much restricted in terms of photography. Nonetheless, the quality of photos isn't too bad, sporting accurate colors with fuzziness and some loss of details around the edges so long as you shoot with a decent amount of light all around. Audio wise, the X8 failed to impress, exhibiting average results with muddled bass. Vocals came across as sharp, something that we had also observed on the previous ХЮ mini series.
The X8 is much closer in specs to its X10 mini cousins than the flagship X10, with that said, it's also so similar that there's nothing much to set itself apart from them, aside from a larger screen and the mediocre camera. The main problem with the X8 is that it feels outdated since the cooler aspects of the phone have already been implemented on previous Xperia handsets, with nothing really new to offer, the X8 is merely a rehash of an old formula.
Sony Ericsson Xperia X8 specs:
* 3.2 megapixel camera
* Video camera (video recording, video streaming)
* Display: 16 million colors, TFT capacitive touchscreen, 320 x 480 pixels (3 inches) with auto-rotation
* Media player with album art, MegaBass, TrackID and PlayNow
* FM radio with RDS
* MP3/ AAC ringtones
* Speakerphone
* aGPS with Google Maps™ – with Street View, Google Latitude™, Wisepilot™ turn-by-turn navigation
* Messaging: SMS, MMS, email, conversations
* 3D games
* Picture wallpaper
* Personal organizer functions
* Predictive text input
* Vibration alert
* Internet: WAP 2.0, GPRS, EDGE, HSPA, web browser, RSS feeds, YouTube
* Memory: 128MB plus microSD memory card (up to 16GB supported)
* Connectivity: WiFi, Bluetooth, micro USB, 3.5mm audio jack
* Quadband GSM (850/900/1800/1900) plus 3G UMTS/HSPA (900/2100)
* Size: 99 x 54 x 15 mm
* Weight: 104g
* Talk time: 4.75 – 5.75 hours
* Battery standby: 446 – 476 hours