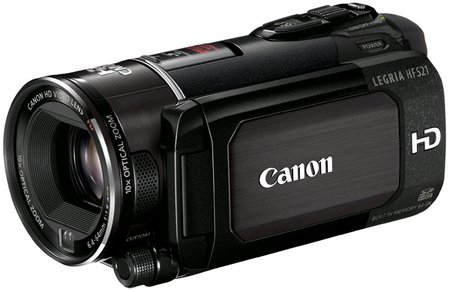 Canon Legria HFS21
Canon's Full HD S21 continues the Legria range's reputation for quality, with 64GB of onboard memory and dual SDHC card slots for near-limitless recording Menu navigation comes via a 3.5in touchscreen and there's a colour viewfinder, hut you may be too busy marveling at 8.59MP stills and cine-style 25p shooting to notice. It excels in virtually everу shooting situation, and the array of filming options gives you complete creative control. You can pay a lot less for a decent camcorder, but you won't get this kind of build and picture quality.
Killer Feature: Relay recording lets you swap SD cards while you're rolling
Verdict: A standard-bearer for top-end HD camcorders that produces dazzling footage in all conditions
Canon Legria HF 510
It only had a short stay at the top of our chart, but the HF S10 remains a fine semi-pro choice particularly if you often shoot in low light. The 32GB of onboard storage and huge range of manual controls cap an impressive and highly capable package.
Sony HDR-TG7
Sony's upgraded TG3 has enough improvements to earn it a fifth star. There's now 16GB of Internal storage, GPS for geotagging and superb 1080p video. With improved ergonomics, too, It's the ultimate pocket can for the traveling filmmaker.
Kodak Playsport
Waterproof to 3m and adept at 1080p video, the Playsport is the slim line shooter outdoors aficionados have been craving, its newly released cousin. The Playtouch, is also a fine choice If you'd like a touchscreen, but for now it costs a fair whack more.
Panasonic HDC-SDT750
The world's first consumer 3D camcorder is essentially a converter lens bundled with a competent HD shooter. In 3D mode it does have limitations such as no zoom and difficulty with fast moving subjects, but spectacular results make it worth the price.
GoPro HD Hero
Hard as nails, and with a choice ol mounts that will let you attach it wherever you damn well please you can rely upon the HD Hero to record your most gnarly of moments in glorious HD Waterproof to 60m, you'll stop working before it does.
PanasonicHDC-SD60
This compact offering gives pocket camcorders a run for their money, Full HD recording on to SD card, a great wide-angle lens and 25x optical zoom all add to its appeal. Not quite as pocket able, but adds enough extras to be worth making room for.
Sony HDR-XR550
Impressive manual features and brilliant optical image stabilization make this a great semi-pro choice. A 240GB hare drive and SD card slot also gives it plenty of storage, but it loses a star for its high price and occasionally weak colour performance.
JVC Picsio GC-FM2
Win a 3in touchscreen, full HD at 30fps video skills, HDMI out and three time-lapse modes, the new Picsio is nothing if not well specced. Quality of footage is good – although it's not the strongest performer in the dark – and it's a bit of a bargain.
Samsung HMX-H200
A steal of a camcorder that may only do 1080i, but does it beautifully. Footage is impressive, with near-perfect focus and exposure, even in tricky conditions. Its looks won't impress, But features such as built-in editing and a time-lapse mode certainly will.