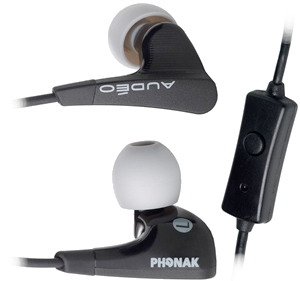 Phonak Audeo PFE 012
It's not easy creating the perfect headphone Music is so subjective that one human's perfect pitch is a little lacking in bass for another, and too bright-sounding for pedant no,3. The PFE 012s do about as good a job of satisfying disparate tastes as any in-ears we've tried. Building on the success of the pricier 111s, they dig up bags of detail, deliver sweet vocals and a palpable soundstage, and up the bass to party-worthy levels. They're also barely-there lightweight and subtly attractive. They could easily sell for twice the price.
Killer Feature: Their tiny 14g heft makes the 012s fine for exercise
Verdict: Fantastic sound, noise blocking and comfort at an excellent price, they're the perfect PMP upgrade.
Klipsch Image X10i
The X10s were our favourite in-ears for years, but the X10i now looks too pricey for the no 1 spot. Built-in iPod/iPhone controls are useful, but it's their sound and size that really impress – the buds are slim as lolly sticks but sound thrilling and insightful.
Sennhelser CX300-II
Thanks to amazing price reductions, the СХЗОО-lls represent even better value for money. Replace your bundled headphones with these and you'll find out what you've been missing; deep bass, sparkling detail and dramatic dynamics.
Powerbeats by Dr Dre
We never had Dr Dre down as a fitness fan, but the headphones he's designed for sweaty gym sessions are seriously impressive. Expect powerful, weighty and dynamic sound, then be pleasantly surprised by the in-line mic and three-button iPhone remote.
Ultimate Ears TripleFi 10vi
Offering audio that's full-bodied aud punchy, with excellent levels of detail, the 10vi will stay firmly nestled in your lugholes thanks to a shapeable over-ear band. With phone controls on-hand, they're a marvelous choice for affluent iPhone owners
Bose QuietComfort 15
Bose's latest long-haul headphones are its finest yet. Wearing a pair is as comfortable as binding pillows to your head with silken thread, and both sound and noise cancelling are exemplary. For a louder, more rocking listen, try Monster's Beats Studio.
Shure SE535
Your eyes don't deceive – that is how much Shure's flagship three-driver lEMs cost. They look and feel it, though, with a thick, replaceable cable that attaches to the buds via articulated joints. And the sound? Unbelievably detailed, utterly uncompromising.
Klipsch Image S4
The chaps at klipsch sure know how to make a sound-isolating headphone. Combing the bass attack of the yoof-oriented 'street' headphones with the refinement and clarity you'll find in audiophile lEMs, these are great fun and stonking value for money.
AKG K702
With a swanky headphone amp, these reference-quality, open-backed headphones create a sound to rival hi-fi speakers ten times the price. Got more dosh? Try the supremely revealing Sennheiser HD 800s or breathtaking Grado GS1000is.
SoundMagic PL50
Proper in-ear monitors at a staggeringly affordable price. The PL50s aren't the bassiest, but for vocal delivery no headphones anywhere near this price can touch them. They're honest, insightful and lively, and they come with plenty of accessories.