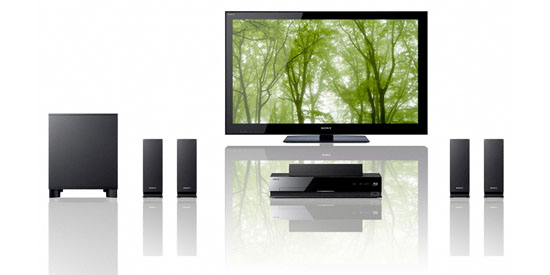 Sony BDV-E370
Sony's 2010 home cinema in-a-box range has been a long time coming, but on this evidence it's been worth the wait. The BDV-E370 is no oil painting-for sultrier looks, you will have to invest in one of the company's pricier systems – but its manifold charms more than compensate Sporting 3D Blu-ray replay, its also media-friendly with optional Wi-Fi (via USB) and Sony's Bravia internet Video service, offering the delights of online streaming services such as BBC iPlayer and LoveFilm All this, and you can control it from your iPhone.
Killer Feature: Those compact speakers make a big, big sound
Verdict: An amazing 3D Blu-ray system with top-notch picture and sound quality at a bargain price
SamsungHT-C6930
Easily the most complete all-in-one home cinema system you can buy the 3D-enabled Samsung includes Wi-Fi, online streaming. HDMI Inputs, automatic calibration, 7.1 sound and Pro-Logic llz. It's not cheap, but brilliance seldom is.
Sony BDV-E870
With its excellent 30-enabled picture and comprehensive streaming features, the Sony's an instantly appealing solution Similar to the Sony BDV-E370, it's better suited for use in larger rooms, thanks to its bigger speakers.
Yamaha VSP-4100
Replacing yamaha's much-admired YSP-40D, the new 4100 adds onboard HD audio decoding for Blu-ray wireless streamng of audio from your iPod and, if you want more bass without cable clutter, a wireless subwoofer option. Nice.
SamsungHT-C6200
Want the simple life? Don't fancy wires trailing about the place? Hate the prospect of long awkward set-up processes? This 2.1 Samsung still packs in the tech, with twin HDMI inputs HD Audio decoding a Blu-ray drive and LoveFilm streaming. Bliss.
Panasonic 5C-BTTT55
With its outstanding 3D-enabled picture and powerful, well-integrated sound, the Panasonic's case seems compelling. However, it could use HDMI inputs and better online streaming features – and Sony's rival BDV-E870 cheaper, too.
LG HLB54S
This Blu-ray-enabled soundbar does everything most people could want in one box: it's got wireless-n for network streaming and YouTube, two extra HDMIs for easy switching of your other sources and even a wireless sub. Clever stuff.
Samsung HT-BD8200
The super-tidy HT-BD8200 comprises just two boxes the speaker bar houses a Blu-ray player, Inputs and amplification, while a wireless active subwoofer doles out the bass. There's also an iPod dock, Youtube support, network access and a USB in.
LG HB354BS
LG'S 2.1 Blu-ray solution is a real looker, its elegant touch-sensitive buttons and blue backlighting adding class to complement its curves. It's well-equipped too with USB Ethernet and iPod support. Youtube streaming and a generous two HDMI inputs.
Samsung HT-BD1250R
Unlike most price rivals, Samsung's HT-BDT250R gives you four compact bookshelf-style speakers for front and rear effects plus a hefty subwoofer for bass effects. It's a lot of plastic for your cash, and there's even an iPod dock and a wireless option.