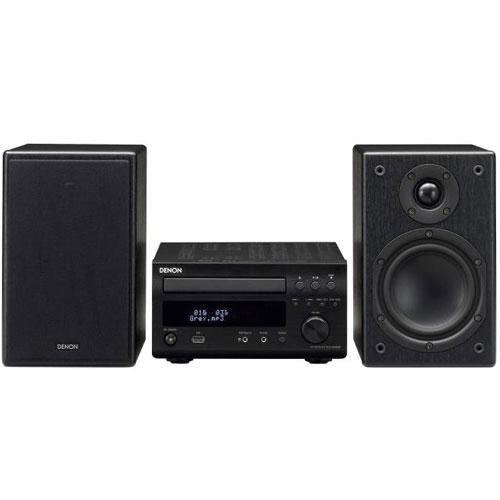 Denon D-M38DAB
Denon proved one-box micro systems could sound good, and with the D-M3SDAB it's ramming the tiny-minus-compromise message home. Building on the success of the D-M37 – and stealing that system's understated good looks – it packs a CD player, DAB+ enhanced digital radio and 2x30W of superior amplification into Its aluminum shell. A USB port allows direct playback of digital music and iProduct integration, and the sound is as grown-up and composed as any small hi-fi we've heard. It's £80 less without the (quite good) speakers.
Killer Feature: Digital hook-up makes your iThing's tunes sound much better
Verdict: Impressive sound from a small system, proving that micro doesn't have to mean compromise
MarantzM-CR502
Still one of the best performance-per-pound micro systems available, but now the competition has caught up. If CD sound is your primary concern the marantz remains a great buy, but the denon above edges it on overall convenience and talent.
Sonos BU250
This system includes the amp-free ZP90 player, the amplified ZP120 and the CR200 touchscreen remote. Connect the ZP90 to your existing hi-fi, a pair of speakers to the ZPI20 in your bedroom, then stream tunes from a hard drive or the net. Easy Brilliant,
NaimUniti
If you can afford it, this is the only hi-fi you need: audiophile sound from CD, DAB, FM or a PMP, plus Wi-Fi and Ethernet connectivity. The smaller "Qute" version is almost as good for £1350, and both can be controlled via Naim's trick new iPhone/iPod app.
Arcam rCube
This is the iPod dock audiophiles have been waiting for: a sleek, portable chunk of geometry that delivers a roomful of clean, refined sound from its 90W amp. It will stream from an iThing or computer via a Kleer dongle, and if you get two, multiroom fun awaits.
Logitech Squeezebox Touch
Hook this to your hi-fi and, with Squeezecenter running on your PC or NAS, it will stream your music in top quality, receive internet radio and integrate with various cloud music services. The touch interface is cool and there are various nifty apps.
Arcam Solo Mini
The Solo Mini packs all of Arcam's hi-fi prowess into a sleek, compact chassis. Audio quality is uniformly superb, whether playing from CD, DAB, the fascia's USB input or the optional, iPod-friendly irDock. It's just a bit pricey compared to Marantz's M-CR502.
Pure Sensia
The Sensia is an uber radio: it packs DAB, FM and Wi-Fi for streaming and internet station-listening, a 5.7in capacitive touchscreen, and you can download apps onto it. Crucially, with two 3in speakers and a credible 30W of power, it also sounds great.
Yamaha MCR-140
Cute looks belie a micro hi-fi with pedigree. Yes, there are ten colours available, and yes, the low-rise speakers have room for only a single driver each, but it sounds great for the price, and the wireless iDevice dock makes for simple cross-room control.
Sharp DK-AP8P
This compact portable iPod dock packs an impressively proper sound thanks to dual 1W drivers, bolstered by a tiny 2W ported sub. The chunky remote doubles as a speaker cover, too, so it s safe to chuck in a bag. Not got a 'Pod? Then there's a 3.5mm line-in.