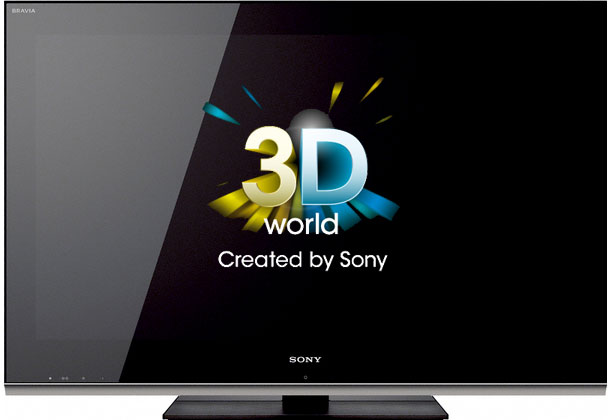 Sony KDL-46HX903
Expensive it may be, but the Sony is one of the few televisions that satisfies in every key technical aspect. Its reception of both standard-definition and Freeview HD is above reproach, while its handling of Blu-ray and satellite HD/3D picture signals beggars belief – if there's a TV with a finer picture out there, we've yet to see it. Full-array LED backlighting plus 400Hz motion processing form key parts of its picture-enhancing package, while iPlayer and LoveFilm streaming ensure its flexibility and longevity.
Killer Feature: Awesome picture quality blows rival sets out of the water
Verdict: Number one more than justifies its price with world-beating 2D and 3D performance
Samsung UE40C7000
Samsung's affordable smart TV delivers 3D viewing and a built-in Freeview HD tuner. As if that wasn't enough, it also includes the latest version of Samsung's Internet TV system, offering direct access to BBC iPlayer, LoveFilm, Muzu.tv and much more.
Panasonic TX-P50VT20B
One of the best 3D TVs we've tested and good value for one so large, but the styling's a bit drab. 3D Blu-ray performance with the bundled glasses is crisp, and it's loaded with Freesat and Freeview HD tuners. DLNA and streaming tech. Highly recommended.
Samsung PS50C6900
Offering surely the most startling value available in a modern television, the 3D-enabled 50in Samsung includes active-shutter specs, Freeview HD reception and a host of useful online features, including iPlayer and LoveFilm streaming.
LG 50PK990
Want features? The LG gives you everything – Freeview HD, 600Hz processing, THX picture modes, DLNA, Wi-Fi, Bluetooth and USB media replay – plus a high-quality 50in plasma picture. True, it doesn't do 3D, but the value on offer is amazing.
PanasonicTX-P42G20
This excellent Freeview HD-enabled 42in plasma can also receive Freesat, so you'll get free HD wherever you live in the UK. It'll support an external hard drive for simple PVR recording, too. It's just a shame it's not a bit more interesting design-wise.
Sony KDL-60LX903
Got a big room and a correspondingly substantial wallet? This beefy Sony could be for you. Its 60in, LED-backlit screen looks fantastic with both 2D and 3D video and, with integrated Wi-Fi, it's about as web-friendly as any modern TV can be.
Samsung UE46C8000
This beautiful, well-equipped LED-backlit 3D set oozes desirability, and it's a very decent performer too, with its comprehensive network streaming services further bolstering its appeal. Only comparatively lacklustre 3D performance stands against it.
Philips 46PFL9705
Stunning performance with HD and 3D sources gives this beautifully put together and extensively specified set instant appeal – It's just a shame that its mediocre tuner, diffident up scaling and lack of HD reception undermine it.
Philips 58PFL9955H
Philips has tried a 21:9 aspect TV before, but the 58PFL9955H is a far more successful attempt. With 3D, the latest versions of both Ambilight and Philips' LED Pro backlighting, and built-in Net TV it's the ultimate 'l love movies" statement.