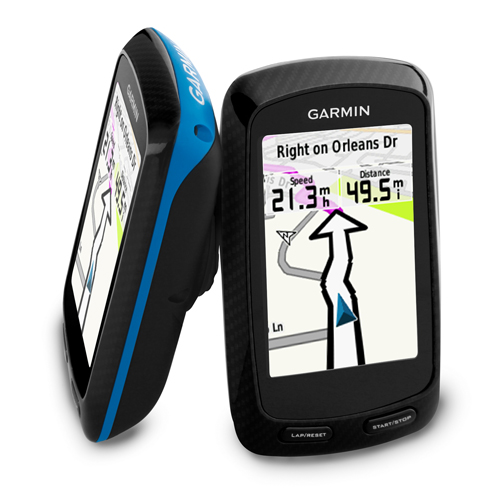 The Garmin Edge 800 is a touch screen GPS designed for use with bicycles. Those who frequently ride bikes will find that a GPS system is imperative to ensuring safety, reducing travel time and preventing the possibility of riding around searching for your destination. Small and compact, the Garmin Edge 800 measures 2" x 3.7" x 1" and fits comfortably on your bike. The Garmin 800 is fastened securely with specially mount design holds that feature a quarter turn design and easily fit on your handlebars or on the bike's stem. You'll also find that removing the Garmin Edge 800 for use on other bikes is easy.
You can use the Garmin Edge 800 as a standalone GPS system or you can combine it with a heart rate monitor, power meter, and a speed or cadence sensor for further tracking. Whether you bike competitively, use your bike as your primary method of exercise, transportation or for hobbies or on vacation, you'll find the advantages of using the Garmin Edge 800 are vast.
Designed for use on rugged terrain, you won't need to worry about the Garmin Edge 800 having connectivity issues due to your riding. The display features a 160 x 240 pixel resolution, is water resistant and has been designed for easy viewing in direct sunlight as well as in darker environments. You won't need to worry about removing your gloves to access the touch screen either. The Garmin Edge 800 is sensitive enough to respond to light movements even while wearing gloves. You can easily switch through different applications and control the size of any map you are looking at while wearing gloves.
As looks go, the Garmin Edge 800 has a sleek design with blue or white accents. The GPS is glossy black with a large, easy to read screen so you can ensure that if you are riding and need to glance at the GPS you can view images without any difficulty. The colored accents run along the side of the system and give the GPS a high tech look. The menu button is large and is sandwiched between two navigational arrows. As looks go, and for the size of the GPS you'll find that the Garmin Edge 800 is a good choice.
The Garmin Edge 800 features a basemap and you can add more maps to the system. Some versions carry a CityNavigator microSD card for even more maps. History extends to 1,000 laps and you can save up to 200 favorite locations or way points. Routes are determined by the amount of memory your system has.
As some versions contain a bike speed, cadence sensor and heart rate monitor, there are several features that all Garmin Edge 800 models will not possess. These include a foot pod, automatic syncing to your computer, multi-sport modes, wireless connections and the Garmin Edge 800 doesn't contain a sports watch. What it does have, however, makes it a good choice for those looking for a solid GPS system to take with them on the road or trail.
The Garmin Edge 800 features Garmin Connect where you can share data with other Garmin users, is compatible with the Garmin Training Center and Virtual Partner software, and has courses for competition. It has auto pause, auto lap, and auto scrolling features. Users can create simple or advanced workouts and set an alarm for their pace as well as activate an alarm based upon either time or distance. Those who use their bike as a primary method of exercise will find the benefits of the Garmin Edge 800 are vast. You can easily customize the screens and design your own workout plans based upon heart rate and calories you'd like to burn.
The Garmin Edge 800 has been designed to work in temperatures ranging from -20°C to +60°C. The Garmin Edge 800 retails for approximately $450.00.