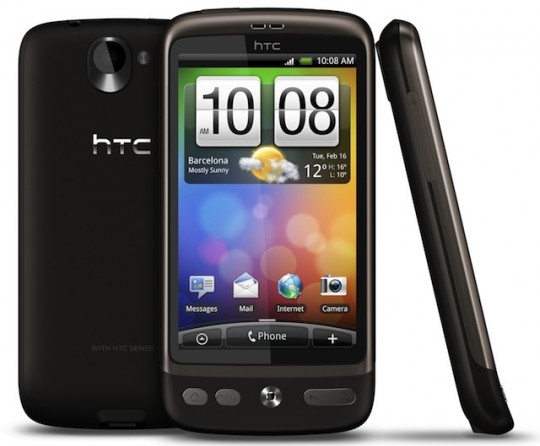 The HTC Desire is based on the Android 2.1 platform and is revered for its sleek, slim design and fast speed. Big on sound and graphics, the HTC Desire features a 4.3 inch display with Dolby Mobile and SRS surround sound. Those who use their cell phones for gaming, Internet browsing, listening to music and for connecting with friends through social media networks will find the HTC Desire more than surpasses their needs.
The HTC Desire provides a number of different widgets that will ensure users have easy, trouble free access to their social networking sites, searches, friend stream and emails. Some of the Social Networking platforms supported by the HTC Desire include Facebook, Friend Stream, Photo Sharing on Facebook, Twitter and Flickr and video sharing through You Tube. Additionally, the phone features "HTC Peep" to enable easy tweeting.
With a number of widgets you can easily check stocks, the weather, view photos and create photo albums, play music, and connect with and search for people. The HTC Desire also features several special features such as automatically turning the ringer volume down when someone picks up the phone, muting the ringer if the phone is put face down and ensuring that users can create data backups with the micro SD card. These are automatic backups that many users find invaluable.
Many find that the HTC Desire is similar to the Nexus One with Desire having more RAM than Nexus as the Nexus One has 512 MB and the HTC Desire has 766 MB. U.S. Cellular carries the HTC Desire has quickly earned the reputation as being U.S. Cellular's best Android based smartphone.
The HTC Desire's greatest feature is undoubtedly its speed. The 1GHz snapdragon processor ensures that users have the speed necessary to complete many of today's tasks. Facebook and Twitter are the two most powerful social media networks available and with the HTC Desire you can easily connect with and follow your friends' posts, tweets and emails. Using the FriendStream app makes integrating social media networking into your phone simple and convenient.
There is plenty of wireless connectivity with Bluetooth 2.1 with enhanced data rate, an A2DP for wireless stereo headsets and file transferring is made easy with object push for FTP and OPP. The camera is a 5 megapixel full color camera with face detection, auto focus and flash. You can capture photos in widescreen as well. Video formats include recording in 3gp as well as playback. Additional playback formats include 3g2, .mp4, .wmv. Audio playback formats include aac, .amr, .ogg, .m4a, .mid, mp3, .wav, .wma, ensuring that you have plenty of options for listening to your favorite music. Recording is supported in the .amr format.
The Internet connection is impressive with up to 7.2 Mbps download speed and up to 2 Mbps upload speeds on 3G networks. Wi-Fi is IEEE 802.11 b/g meaning the phone can easily tap into hot spots when traveling or on the road.
With the Androids app you'll have instant access to some of the world's most popular applications. The HTC Desire is undoubtedly the top Android phone carried by U.S. Cellular.
HTC Desire specs:
* 3.7-inch AMOLED touch-sensitive screen
* 480 X 800 WVGA resolution
* 1 GHz processor
* Android 2.1 Operating System
* HTC Sense
* ROM 512 MB
* RAM 576 MB
* Optical Trackball
* 5 megapixel camera with auto focus and flash
* Bluetooth 2.1
* Wi-Fi
* 3G connectivity
* Upto 2 Mbps upload speed
* Upto 7.2 Mbps download speed
* microSD memory card
* Proximity and light sensor
* GPS
* Digital compass
* FTP/OPP file transfer
* 3.5 mm stereo audio jack
* Audio Formats – AAC, AMR, OGG, M4A, MID, MP3, WAV, WMA
* Video Formats – 3GP, 3G2, MP4, WMV
* Upto 7 hours talktime
* Upto 360 hours standby time
* 1400 mAh Battery