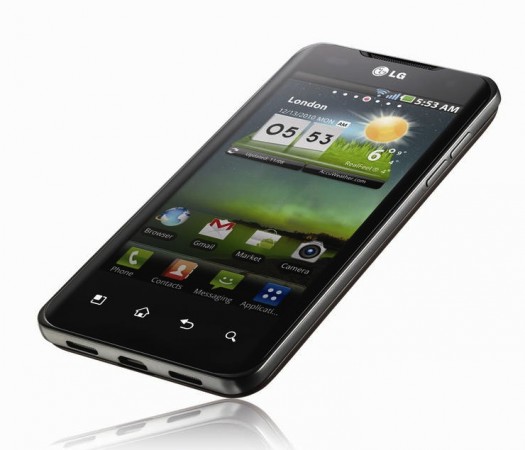 With a 1 GHz dual-core processor, the new LG Optimus 2X is more than just a smartphone. It's the planet's fastest, most powerful mobile…
There are chances that you have a smartphone and already use it to browse the web, email, use apps, play games and enjoy music and video. And we're willing to bet that every once in a while it struggles to cope, especially if you try and do too many things at once – they're tasks that were once the reserve of PCs, after all.
But patchy performance isn't a good look, which is why LG has crammed a 1GHz dual-core NVIDIA Tegra 2 processor into the new Optimus 2X. Why dual-core? Simple: just as two brains are better than one, two cores spread the load and are able to process data faster and more efficiently – that's why PC processors are now mainly multi-core. In a phone, the result is even more impressive: the Optimus 2X is simply faster and more powerful than any other handset on the market.
Read on for the lowdown on the Optimus 2X and its tech spec, and if you're in the mood for some serious tech talk, check out our panel on dual-core processing (right)…
LG Optimus 2X Specifications:
CPU Dual-core 1GHz NVIDIA Tegra 2
OS Android 2.2 Froyo (2.3 Gingerbread upgradeable)
Display 4in, 480×800 pixel (WVGA) capacitive touchscreen
Storage 8GB internal, microSD up to 32GB
Video recording/playback 1080p Full HD (@24fps), 720p (@30fps)
Camera 8MP with autofocus and LED flash
Connectivity 3G, Wi-Fi (DLNA compatible), integrated HDMI for big-screen mirroring Battery High-capacity 1500 mAh li-ion rechargeable
Dimensions 123.9×63.2×10.9mm, 139g
Others 7.1 ch virtual surround sound, multitouch interface, LG SNS 2.0, Gesture Ul
Turbocharged Web Browsing The dual-core NVIDIA Tegra 2 platform loads web pages super-fast and you can see them full-width on the hi-res screen without zoom
Console Level Gaming NVIDIA's graphics smarts mean the Tegra 2 contains a blisteringly fast, low-power GeForce GPU to speedily render 3D games in stunningly crisp detail
Awesome Multimedia Record and play 1080p Full HD video, along with 7.1-channel virtual surround sound. There's even an HDMI port that mirrors all your phone's stuff to an HDTV
Seamless Multitasking Forget having to shut down one app to open another – the beefy 1GHz processor's twin cores allow you to use many apps at once, lag-free
Instant App Start-Up With enough power to fire up apps instantly, the Optimus 2X is constantly primed to post that vital tweet, get online or snap the perfect picture
The Power Of Two
Most smartphones use single-core processors, but these struggle to cope with the way we now use our handsets, resulting in lag, app freezing and a substandard user experience. You can try squeezing more performance from a single core by making it larger and increasing the operating frequency and voltage – but large cores are impractical for mobiles: you soon run into thermal and heat dissipation issues and battery life suffers as a result. So, no dice.
The solution, as PC manufacturers discovered years ago, is to use multiple cores. By channeling different processes separately, they effectively get twice the work done, without cooking the hardware and sapping power. That means more efficient, quicker multitasking and speedy execution of complex, 'multi-threaded' tasks.
In a new era of phones that are expected to run – and switch seamlessly between -several apps, that thinking is filterering into mobile tech. The LG Optimus 2X is at the leading edge of this powerful revolution. Welcome to the future of dual-core mobiles.