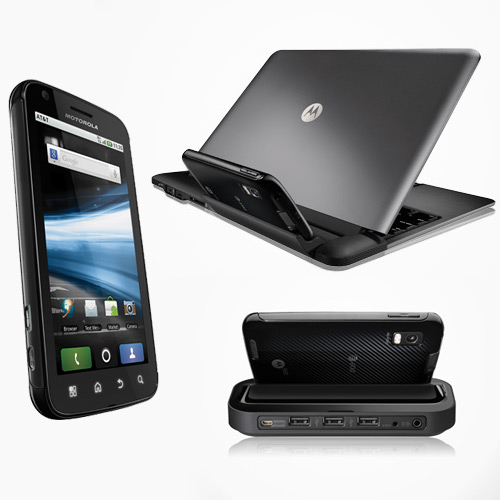 The Motorola Atrix 4G from AT&T is earning its reputation as a powerful smartphone with numerous capabilities. The phone is based on the Android 2.2 Froyo platform and features a dual core processor and the world's first qHD display. One of the most impressive features of the Motorola Atrix 4G; however, is its connectivity.
Whereas some smartphones fail to feature browsers capable of utilizing Adobe Flash player, the Android based Atrix is Flash ready as it contains the Android HTML Webkit browser. You'll also find that with Bluetooth you'll have easy connection between numerous devices.
The Atrix features Bluetooth 2.1 +EDR and supports A2DP 1.2, AVRCP, HFP 1.5 AG, HID 1.0 Host, HSP 1.0, OPP, PABAP PSE. Other connectivity features include Wi-Fi 802.11 a, b, g, and n; 3G Mobile hotspot that will enable your phone to be a hub to up to five devices that are Wi-Fi enabled; and included GPS with Google Maps, Google Latitude, Google Maps and ecompass.
The physical casing of the Atrix 4G is aesthetically pleasing as well. With a Corning Gorilla Glass display the dimensions of the Atrix are 63.5 x 117.75 x 10.95 mm or 2.5 x 4.6 x .43 inches. Physically, the Atrix 4G is sleek with a smooth black glossy exterior. Though small in size the Atrix 4G packs a powerful punch. Boasting a 1GHz dual core processor, the Atrix 4G features up to 16 GB on board and has up to 32 GB of removable memory storage. The display screen is 4.0 inches with 960 x 540 resolution and when you look at the phone you'll notice the screen fills up the front panel. The touch screen panel surpasses that of an WVGA 800 x 480 and will provide a clear, crisp image.
Those looking for photo and video capabilities will discover that the Atrix 4G features a 5 megapixel front and rear facing web camera with digital zoom and LED flash. The camera features automatic focus as well. Those who are looking for a versatile smartphone that can handle a number of different applications, such as taking photos, to browsing the Internet and connecting with friend and family will determine the Atrix 4G delivers. With the Motorola Atrix 4G's capabilities you'll find that the phone is also a great choice for those who need a business phone as well.
If you're interested in a music player the Atrix 4G features an Android music player and is capable of playing music in the following formats: AAC, H.264, MP3, MPEG-4, WMA9, eAAC+, AAC+ and AMR NB. Video capture and video playback rate is at a comfortable 30 fps.
Atrix 4G features Swype and provides a number of ways to communicate with social media networks and stay in touch with friends, family and business associates. Corporate Sync, Google Mail, embedded Pop3/IMAP and corporate directory lookup capabilities makes the smartphone an excellent addition to many consumers. Additional features include Gmail, Google Talk, Quick Office, Viingo Voice, Blockbuster, Need for Speed and Mobi TV.
Those looking for a sleek smartphone that has the capabilities required to handle today's social and business needs will find the Motorola Atrix 4G a great choice.
Motorola Atrix 4G specs:
* Nvidia Tegra 2 1GHz dual core processor
* Presently Running at Android Froyo 2.2 may be upgradable to Android 2.3(gingerbread)
* 4"inch screen @ 540 x 960 pixels (Gorilla Glass display)
* Biometric Fingerprint Reader
* MotoBlur UI with Live Widgets
* 16GB internal storage expandable up to 32GB via microSD
* 1024MB RAM
* HSDPA 14.4Mbps, HSUPA 5.76Mbps
* WiFi 802.11 b/g/n, DLNA, GPS w/ aGPS support
* Bluetooth 2.1 w/ A2DP, EDR, FM Radio Tuner, USB 2.0
* 5MP autofocus camera with LED Flash
* 720p HD video recording
* Li-IOn 1930mAh battery