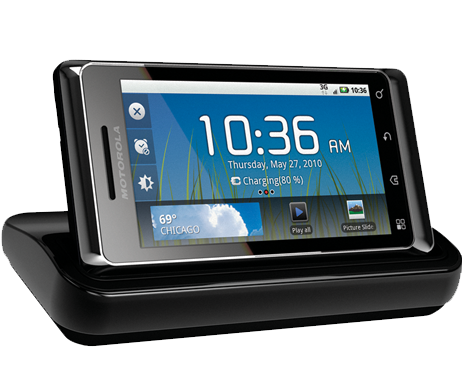 Motorola updated their smartphone Milestone with the Android based Milestone 2. The phone comes with Android 2.2 Froyo and features a QWERTY slider keyboard. Talk time is approximately up to 460 minutes or 7.6 hours and up to 290 minutes or 4.8 hours on WCDMA.
The standby time is up to 400 hours. One of the most noticeable differences between the Milestone and Milestone 2 is the power of the 1GHz Ti OMAP processor. Those looking for a smartphone that can handle work, play and gaming environments will find the Motorola Milestone 2 delivers.
3 G mobile hot spot connectivity ensures that you can turn your Motorola Milestone 2 into a hot spot where you can connect up to five Wi-Fi enabled devices. Other connectivity features include WLAN and DLNA or Digital Living Network Alliance enabling users to share data over similar devices.
The web browser supports Adobe Flash Player 10.1 and operates on Android HTML Webkit. With Bluetooth and Wi-Fi users can quickly upload and download documents, music files, watch streaming video and television shows, share and upload photos and have the speed needed to play games online.
As many smartphones don't have Adobe Flash capabilities the Milestone 2 picks up where their competitors leave off. More than seventy percent of all interactive, entertainment and gaming sites utilize Adobe Flash giving the Milestone 2 an advantage over much of the competition. With blazing fast speed and access to Flash enabled applications the Milestone 2 provides numerous gaming and entertainment experiences.
Other features that enable communicating with friends, family and business associates include Google Mail, Push Email and Corporate Sync. MMS capabilities include easy syncing to Facebook, Twitter and MySpace with easy access through an enhanced version of MOTOBLUR.
Featuring up to 40GB memory and up to 8GB internal memory the Motorola Milestone 2 has plenty of room for handling your needs and transactions. The memory, combined with the powerful 1 GHz processor ensures that you can easily handle your applications, data transfers and entertainment needs while running multiple applications and devices. The Open Multimedia Application Platform (OMAP) and open source V8 JavaScript engine gives the Milestone 2 extra speed whether running various applications or browsing the Internet.
The QWERTY keyboard provides users with an easy and efficient way of typing, handing data and documents and staying in touch with friends, family and business associates.
There is a host of Google applications available through the phone that are integrated including Google Search, YouTube, Gmail and Google Maps. You can access thousands of apps through Android Market as well. Those who are looking for entertainment applications can use the free Motorola Media Link software that will enable users to transfer music simply and efficiently.
If you want to make certain that your smartphone is personalized the Motorola Milestone 2 provides plenty of options to enable you to customize your phone the way you wish. With seven customizable screens, users can organize their contacts, applications and social media networks into an easy to manage layout. For those looking for a fast smartphone that will handle business, social media networks and entertainment tasks the Motorola Milestone 2 is sure to impress.
Motorola Milestone 2 main specs:
* Network: 2G/3G Network
* Announced: 2010, September
* Status: Exp. release 2010, Q4
* Form Factor: Dual slider
* Dimensions: 116.3 x 60.5 x 13.7 mm
* Weight: 169g
* Display Size: 3.7 inches
* Display Type: TFT capacitive touchscreen, 16M colors
* Internal Memory: 8 GB RAM
* External Memory: 32GB, 8GB included
* Memory Card: microSD memory card
* Data: GPRS, EDGE, 3G, WLAN, Bluetooth, USB
* Camera: 5 Megapixels Camera
* Battery: Standard battery, Li-Po 1400 mAh
* Standby / Talk Time: –
* Radio: No FM radio
* Media Player: MP3/MP4 Player