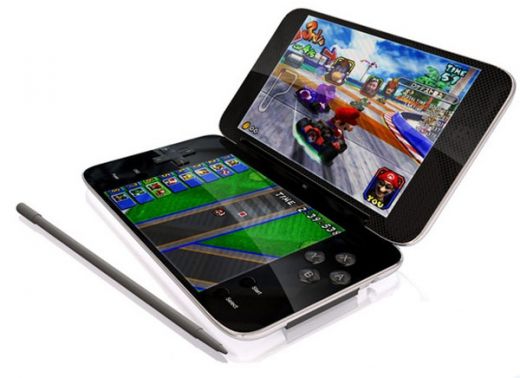 The Nintendo 3DS was released in Japan on February 26, 2011 and is scheduled for a North American debut on March 27, 2011. As a portable game console, the Nintendo 3DS has been met with great anticipation as it features 3D imagery.
One of the most amazing features of the Nintendo 3DS is that players will not need to wear special glasses to enjoy the realistic, vivid 3D images. The game console will be available in two colors: aqua blue and cosmo black.
The idea of using 3D imagery without the need for glasses seems amazing to many. The process is made possible through a form of technology called Autostereoscopy, the images are referred to as stereoscopic. Stereoscopy or stereoscopic 3D imagery creates an illusion of depth by presenting two different images, one for the right eye and another for the left eye to see. The Nintendo 3DS uses stereoscopic imaging on two screens, an 800 x 240 pixel screen and a 320 x 240 screen to create this illusion which in turn helps gamers play their games in a more realistic environment. Both screens feature 16.77 million colors, ensuring that the game's graphics are not compromised and remain, crisp and vivid.
What also makes the Nintendo 3DS a great choice of gaming console is that the 3D feature can be turned off so the game is played in typical two dimensional format and you can use the slider to adjust the degree of 3D enhancement. This enables gamers to have full control over their gaming environment and lets them decide how much 3D effect they'll need. If that wasn't enough to make gamers worldwide squeal with delight, the Nintendo 3DS also features a 3D camera that will let you take photos, similar to the images seen in Nintendo 3DS games. The Nintendo 3DS is expected to sell in U.S. markets for roughly $250.00.
Other features on the Nintendo 3DS include a built in motion and gyro sensor. The sensors detect if the Nintendo game consoles are moving or being twisted from side to side and the game will adjust itself accordingly when Nintendo 3DS games are played.
You'll also find that the Nintendo 3DS features an analog control in the form of a circle pad right above the plus sign directional button, a microphone input and traditional buttons as well. Those who play games that use the stylus will find that the Nintendo 3D Stylus is adjustable and allows player to customize the length, as well as comfort of the stylus used.
The Nintendo 3DS comes with some great features and accessories as well as a 2GB SD Memory card. The memory card will let you store the photos or audio you've recorded from your system and Nintendo 3DS is compatible with MP3 formats and AAC file formats. The Nintendo 3DS not only enables players to create great photos and sound files but helps save them as well.
One question that may be on many minds is how the Nintendo 3DS will interact with games made for other consoles such as DSi or Game Boy. The Nintendo 3DS can play Nintendo DS and DSi games in 2D, but will not play those games that have been designed for use in the Game Boy Advance slot of the Nintendo DS game console.
Gamers will love the social networking aspects of the Nintendo 3DS as the special "Street Pass" feature enables players to share selected information with people that you meet during your everyday life. By putting your Nintendo 3DS to sleep and carrying it with you, the StreetPass feature will connect with others who are carrying the system and you can exchange information, thereby finding new people to play with. In addition to StreetPass, the Nintendo 3DS also features SpotPass. SpotPass helps identify wireless hot spots and LAN access modes so players can take advantage of more gaming opportunities that are available.
The Nintendo 3DS game console contains an array of new and exciting features that enhance the experience of gamers worldwide.