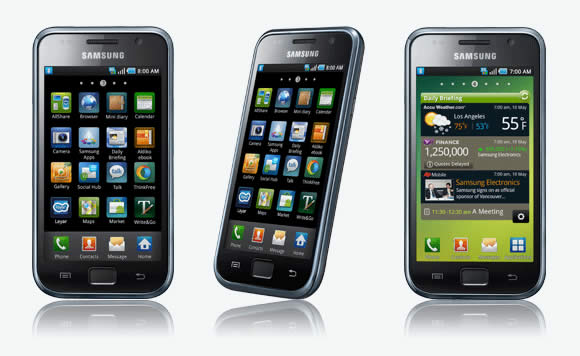 Declared the most powerful smartphone designed by Samsung the I9100 Galaxy S is lightweight, compact and features amazing speed with a 1GHz ARM dual core processor with Orion chipset. With the Android 2.3 Gingerbread platform, the Samsung I9100 Galaxy S is one of the top cell phones boasting the newest in technological advances. The Samsung I9100 Galaxy S is the newest model following the Galaxy S. Users will quickly notice the four content and entertainment hubs which give the smartphone its advantage over its competitors.
The display is the best in the industry with a 4.27 WVGA (480 x 800) Super AMOLED Plus that ensures users can see videos, read eBooks and watch streaming live content with clear visibility. The four main hubs are the Social Hub, the Music Hub, the Readers Hub and the Game Hub. Each provides the user with a rich experience whether connecting with friends and family through media networks, Email and IM. There are plenty of sensors on the smartphone as well including Gyro, Proximity, Digital Compass, Light and Accelerometer.
Running on the Google Android Gingerbread platform, users have access to a number of different Google features including Google Voice Search, Google Maps, Exchange Active Sync, Android Browser with RSS Reader, Android Marketplace for more than 70,000 apps, GPS, and Lost phone management.
Those in need of a smartphone with gaming capabilities will enjoy the Samsung I9100 Galaxy S gaming hub that features a 3 axis gyroscopic sensor.
The hub allows users to download new games for free as well as select from choice titles distributed by Gameloft. With 8 GB memory plus 18/32GB Flash and micro SD (up to 32 GB) you'll have the speed and capabilities needed to enjoy gaming while handling other applications simultaneously.
There is plenty of speed and enhanced connectivity with Bluetooth 3.0 + HS, Wi-Fi 802.11 a/b/g/n but the real speed is from the XMM626- dual core processor. Wi-Fi will enable users to connect enabled devices and transfer times are significantly reduced. The camera included with the Samsung I9100 Galaxy S far surpasses many of those with cell phones as well.
The Samsung I9100 Galaxy S has an 8 megapixel rear camera with AF and LED Flash and a 2.0 megapixel front camera. Features include singles shot, continuous shot, panorama shot and smile shoot. Video capabilities are also impressive as well.
With MPEG4/H.264/H.263/DIVX/VC with recording and playback in Full HD (1080p)@30 fps, you can easily create and upload your own videos in MP4 format. There are numerous options for listening to audio as well. Audio formats include MP3, AAC+, eACC+, and AAC with 3.5mm ear jack and speaker including a voice recorder. The music hub features more than 12 million tracks with plenty of free samples and previews readily available.
The readers hub features more than 2.2 million books and over 2000 newspapers in 22 languages. Those who use their smartphones for reading purposes will find the display provides a clear, crisp image making it simple to read, scan or view text on the phone.
Those looking for a high powered, lightning fast smartphone will discover that the Samsung the I9100 Galaxy S offers more benefits than its competitors