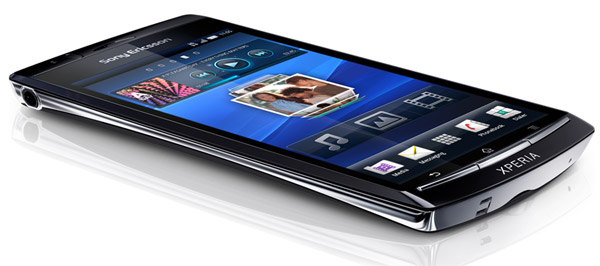 Oh, great. Another iClone.
If this is just another iPhone clone then your name's Dolly The Sheep. The Arc might be rectangular and have a touchscreen on the front but that's where the similarities stop. For starters, its 854×480, 4.2in screen is best part of an inch bigger than the iPhone 4's and is powered by the telly know-how that Sony uses in its Bravia TV range. It should be crisper than Gary Lineker's annual all-you-can-eat buffet at the Walkers factory.
Mmm, salt W vinegar…
You'll be pleased to hear the crisp comparisons don't stop there. A bit like a good fried-potato snack, the Arc has a slight curve to it (hence the name), although with its metallic body it'll feel better in your hand than it will in your mouth. Measuring just 8.7mm at its thinnest point, it's pretty skinny for a phone, especially considering there's an 8.1MP camera, DLNA streaming, GPS and an HDMI-out crammed into its slender frame.
Meh, sounds like all the other smartphones out there.
Sure, there are some similarities: there's a 1GHz Qualcomm processor at the heart of its engine room and it's running Android 2.3 but as with anything that graces this page, the Arc's as much about what's on the outside as what you'd find if you cracked it open. It might not be the PlayStation phone some people were hoping for, but with this in your pocket you'll be more popular and more attractive to the opposite sex. And at the end of the day, that's what gadgets are all about. Aren't they?
It uses the same screen tech as Sony's Bravia TVs.