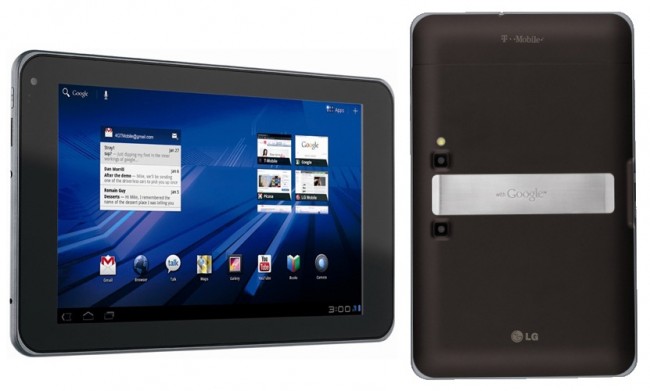 On April 20, 2011, the T-Mobile G-Slate Tablet pc hit markets after being one of the most highly anticipated tablet pcs available. Measuring 5.9"W x 9.6" H x 0.5"D and weighing 610 grams, the tablet pc is lightweight yet has a solid feel and features a display of 8.9" (1280 x 768 pixels) and includes 3D and high definition. For appearance purposes, the T-Mobile G-Slate tablet offers no defining features that noticeably set it apart from its counterparts. What may be the only visual feature that sets the G-Mobile tablet apart is the thin silver border that lines the screen.
The back of the G-Slate is silver gray and composed of plastic. You'll find there are several ports and outlets on the back as well as an imprinted banner that reads "with Google" and the LG imprinted logo. The edge of the G-Slate contains numerous ports, jacks and inputs and is where you'll find a micro USB and HDMI port as well as six, gold colored connectors with which you will connect the tablet to a dock. Other ports and jacks include a 3.5mm headphone jack, an AC adapter input, the power button, a speaker, the volume control, and an input for a microphone.
In addition to the branding on the back of the T-Mobile G-Slate Tablet PC is two input HD holes for the camera with the LED flash. Each camera is five megapixels with one used for recording 1080p video. If you choose to use both rear cameras simultaneously you'll get 3D images of 720p. There is also a two megapixel camera. Though some may not like the aesthetics of the plastic backing it serves a purpose. It is due to that plastic that the G-Slate is lightweight and weighs a mere 1.3 pounds.
Slightly smaller than some other tablets, the G-Slate features a 1280 x768 display which features crisp, clear images. The reduction in size gives the G-Slate an advantage over many of its competitors when it comes to visibility and display. Images and videos are displayed with the power of a dual core, 1 GHz Tegra 2 processor. The T-Mobile G-Slate Tablet pc has 32 GB of internal storage that unfortunately, is non-expandable. Connecting with the G-Slate is simple and trouble free as in addition to Bluetooth and Wi-Fi there is UMTS/HSPA and HSPA + device.
The G-Tablet moves quickly on the Internet and the Tegra is responsible for ensuring that pages load quickly and multitasking is a breeze. Battery life is good with many tablets getting an average of eight hours. Battery life is dependent upon individual computer settings and the amount of programs running.
Based on Android 3.0, Honeycomb, you'll find that there are plenty of Google apps available to choose from. In addition is Need for Speed: Shift for those who want to take part in the racing game. Documents and data are created, viewed and stored with QuickOffice HD. The G-Slate also features several applications that utilize 3D technology. There is a 3D camcorder that will enable you to create 3d videos as well as a 3D player.
Those who'd like to view television programs on their T-Mobile G-Slate Tablet PC can use the preinstalled T-Mobile TV to view different shows. Many feel, however, that the quality of the T-Mobile TV is quite poor and isn't recommended as the best viewer for the tablet. Those using the G-Slate will find that the browser is fast, multitasking is easy and there are plenty of apps in the Google market to try out.
The G0Slate tablet pc is moderately priced and costs for approximately $529.99 after a $100.00 mail in rebate and a two year contract. If you purchase the G-Slate without a contract you can expect to pay approximately $750.00.