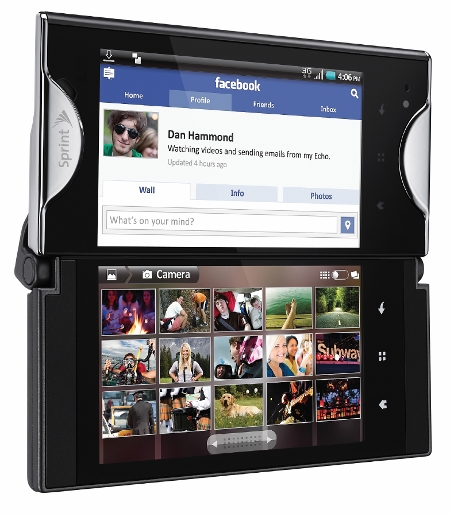 When the Echo was sent to us for review, we had our doubts about an Android device, with a dual screen and how it would deliver. We were quite impressed by what we found.
Design
There is no arguing that Sanyo-built mobile devices are both durable and reliable and now we are being introduced to yet another such device, the Kyocera Echo. Out of the box the device was opened and closed by us a number of times, just to get a feel, and it passed with flying colors when it comes to opening and closing.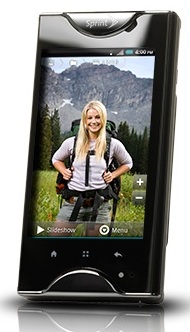 At first sight, the phone is definitely one of the thicker modern-day devices available on the market. The Echo is definitely no looker when it comes to style, but what it lacks in style, its raw utility will make up for!
The Hinge
The hinge, which holds the dual-display phone when opened or closed, is part of the design. A simply thumb push from left to right, is more than enough to slide the top panel back. A simple shove closes the gap in the middle, locking the device into a 'tablet' mode.
The hinge is quite a simple affair, which only has a lock / unlocks setting, a lie-flat setting and a single tilt setting. Once it is locked into place, the user will require both hands to operate the device.
Software
The Echo is equipped with Froyo (Android 2.2) as an operating system. Some advantages of having this system in place include Flash support, mobile hotspot / tethering, Move to SD and an improved V8 browser engine.
Information has been revealed that the Echo may soon support updates to version 2.3 of Google's most favorite Android operating system, Gingerbread.
Kyocera has gone through a great deal to make both panels of the phone work in conjunction. Users will also find a Tablet Mode Extension app quite handy for the device.
The device is being driven by a 1GHz Qualcomm QSD 8650 Snapdragon CPU and backed by 1GB ROM and 512MB RAM.
We were quite amazed at how the device handles Froyo, orientation-altering and jumping around between software programs and apps. In fact, the device felt as if it operated much faster than many other mobile devices tested by us.
There are a number of specially designed apps users will find on the Echo. These include web shortcuts to 'Echo Top Apps', 'Get Namco Games' and 'HD Games'. Due to its SDK, users will also find pre-loaded games such as Pac-Man and Pool Pro 3 Online. These games are ideal to show users what the dual-screens can do in terms of gaming experience.
User Experience
Without the Kyocera Simul-Task app, users would not get to enjoy the experience of using Android across two screens. Luckily, this is included for users of the device. Users will also find browsers, contacts, emails, galleries, messaging, phone and VueQue.
VueQue is a custom Youtube viewer, which enables playback of one video while the user sifts through others.
Unfortunately, somehow the makers of the device decided to omit Gmail from the device. This may be a negative aspect for many mobile users.
Camera
The back-facing camera is a 5-megapixel camera with flash, autofocus and a 2x digital zoom. The camera also has the capability of capturing video in 720p.
Although the camera seems to operate much faster than the majority of Android devices, the makers could surely have decided upon a better camera than the 5-megapixel affair.
Battery Life
For this device we attempted to make use of the device for normal usage, such as e-mails, browsing, playing games, etc. For 70% of the time the device was used with both screens open and in dual-screen mode. The device only managed to provide around 15 hours of battery life.
On a second attempt, with far less dual-screen action, we managed to squeeze out 22 hours of battery life from the Echo.
Conclusion
The Echo is not a phone for everyone. It is not an iPhone, nor a BlackBerry, but we were impressed by what it offers. The phone was, in many instances, much faster and delivered better results than many Android devices currently available in the market.
The dual screens were a new experience when it comes to mobile phones, but they were sharp and lovely to glance at.
Unfortunately, the device did not support WiMAX. It was quite thicker than normal devices and a bit heavier.
Well, if you are into new technology, you may want to take a look at the Echo before jumping into your next purchase – who knows? It may just be the phone you want!