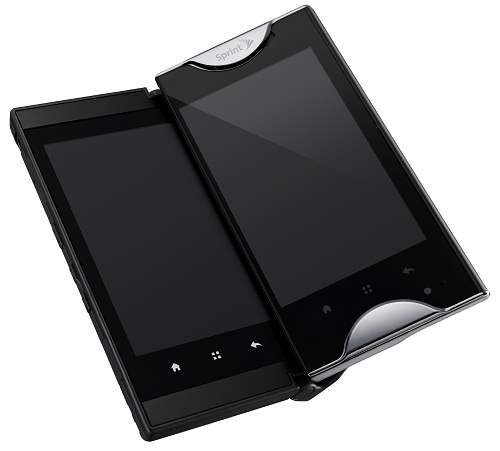 Sprint hasn't been the most active network in the US in 2010, compared with AT&T, Verizon and T-Mobile, but they did have a lot of good offers for their customers. This year, it seems like they're going to continue the tradition, but among the new smartphones that are coming to the network (including Windows 7 Phone and Android devices from HTC), there is one that has caught a lot of people's attention: the Kyocera Echo.
Japanese phone manufacturers tend to stay away from US and European markets, but of course more income never hurts, and Japan usually gets all the best technology, so you know that anything coming from there is going to be high end. That is exactly the case with Kyocera's new device – this smartphone can make a lot of power users and road warriors happy, and the reason for that is the unique construction – the Echo has two 3.5 inch displays that can be configured in multiple ways, making the phone very versatile in use.
Dual display smartphone for a productive mobile life
At first, most people don't find the Echo attractive, and it's thickness and offset display seems weird, but once you start using it in dual screen mode, you fall in love with it. The mains display is offset to the right so that the gap between both screens is minimal when you use it in dual mode, and after a while you don't even notice it – it's just like a nice small tablet, and the awesome 960×800 or 1600×480 overall resolution (depending on how you open the displays) makes it better than anything else you've seen.
There are two sets of navigation controls, which are easy to use, and the prototype worked very well in most applications. The user is able to work on one screen and use the other as a big keyboard or use two separate apps on each display – productivity at its best!
A good processor, though nothing special
The internal hardware may be a bit disappointing for power users, though: the Kyocera Echo uses a 2nd generation Snapdragon, the same one that's running in the T-Mobile G2, only here it's at 1 GHz. The performance is pretty good, even in graphics intensive apps, thanks to the new Adreno video adapter, and the phone will definitely have no issues running day to day tasks and apps with its 512 MB of RAM, but if you want to edit documents with hundreds of pages or edit video, I'm afraid that this device is not for you.
Other specs wise, there's nothing to stand out: the 5 megapixels camera on the back films in 720p, there's 1 GB of internal ROM for apps, which is more than enough, and a micro SD card slot for storage space (an 8 GB card comes with the phone). There's also your usual Wifi, Bluetooth, 3.5 mm audio out jack, GPS, HSPA+ support and other features.
The battery life will be pretty short, but it can definitely be worth it
Of course, you might be wondering what the battery life time on this thing is: surely two screens should deplete it very quickly? Why, Sprint and Kyocera apparently had the same question, and have decided to include a secondary 1340 mAh battery that can be connected right to the phone for charging the main one (of an unspecified capacity). I think you'll only have to use it if you actively use both screens, with one display it should run for 8+ hours, which is average for the class.
Aside from the battery life issue, the Kyocera Echo is an amazing smartphone. Too bad it's only for CDMA networks right now, as a GSM model would be excellent. Kyocera says that this is only the first model and they're working on creating a platform out of it – that would be awesome, in my opinion!