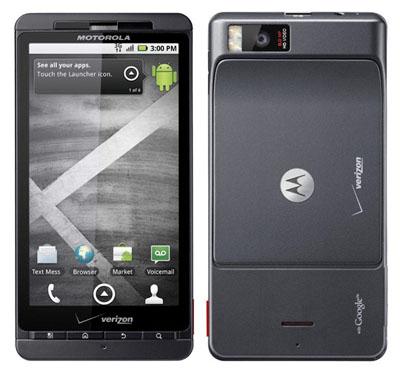 The Motorola Droid X was one of the most successful Android smartphones to hit the market, second only to the original Droid. Verizon definitely got it right when they decided to order another smartphone with an industrial design that was unlike the iPhone, only with a bigger display and lacking a hardware keyboard, and that was the first Droid X.
And now, over a year later, Verizon surprises its fans again by offering the new and improved Droid X2, which is practically the ideal smartphone – it takes all the good stuff from the original Droid X and adds even more features – there's not a lot of things you can hate about it if you're a regular or power user (developers will not want it, though, because of the locked boot loader).
The same excellent design and new hardware specs
The overall exterior looks of the Droid X2 (some say it's pronounced "X square") are very similar to the original Droid X, with the same industrial design loved and hated by so many people around the world. I think that this kind of design fits the moniker "Droid" much better than any of the other new Droids on the market. The front is adorned by a big 4.3 inch display, which has gained an increase in resolution – it's now qHD 960×540 pixels and has better brightness/contrast ratios – and 4 hardware navigation buttons that are simply great for holding the phone with one or even two hands without accidentally pressing them, like it happens on all the other phones with touch buttons.
The main changes however, are on the inside: the Droid X2 is powered by NVidia's Tegra 2 platform, which provides it with some pretty impressive performance. It is a bit weird that Motorola didn't choose Texas Instruments' new OMAP4 dual core solution (which is actually a bit faster), but it's nothing to be complaining about. The Tegra 2 is coupled with only 512 MB of RAM – it certainly seems like it could use more, but with Android's way of dealing with multitasking, this amount of memory is more than enough.
Up to 40 GB of storage space, 720p HD recording and Android 2.2
There are 8 GB of storage space on the phone – 2 GB for all your apps and system files and 6 for anything else you might want to store on your phone. This is complemented by a micro SD card slot, which you can use to increase the total space to 40 GB by adding a big 32 GB card (reselling for about $50). That should be more than enough for anyone who's not a movie producer :-).
The other hardware specs are also at the high end of the spectrum – there's support for Wifi N, Bluetooth 2.1 EDR, hardware HD video encoding and decoding, HDMI output, GPS and more. Users will be able to shoot photos at 8 megapixels and videos at 720p resolution (at a pretty high quality, judging by Motorola's other phones) using the dual LED camera on the back – there's no front camera, though.
On the software side, everything seems fine, although there are some things that will alienate quite a lot of users. The Droid X2 will be running Android 2.2 out of the box and will receive a future upgrade to 2.3 (well, Verizon subscribers will, the rest of the world might wait a bit longer :-).
MotoBlur and the locked boot loader may be a problem, though
But Motorola used their new and improved MotoBlur interface, which I suppose is meant to blur the fine line between a great smartphone and a useless brick – as we all know, a lot of Blur-phones were returned by their users because of the inability to uninstall and more importantly, its constant crashing and meddling with what the user wants to do. The new version is supposed to be better, but I have serious doubts about it – I hope that it's at least stable or better yet, removable.
Developers and tinkerers will also hate this phone because of its locked boot loader, which doesn't allow for custom ROMs to be installed – oh, well, if Motorola and HTC chose to go down this path, somebody else will win (the Optimus 2X is a great phone).
But if Blur works fine and you don't care about custom software and future upgradeability, the Droid X2 is an excellent phone out of the box. It will be out this summer on Verizon's network and if it costs under $250, it'll be an amazing choice for a new smartphone.