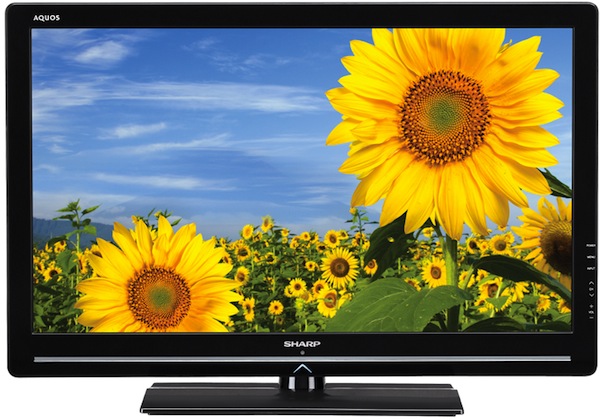 Sharp isn't that popular in the western world, but they're still one of the best consumer electronics manufacturers in the world, and are in the top three list in Asia – that is a big market! They are known mostly for their cameras, audio systems and of course, TVs.
Sharp is one of the few TV companies that actually produce their own panels and internal electronics – and for that reason, they have accumulated quite a wealth of technologic know how in the area. One of their latest offers in the LCD TVs market is the Aquos Quattron LC60LE830U, which is quite a mouthful, so you can refer to it as the "60 inch Quattron 830" if you want.
You might've heard about the Quattron series already in various advertisements, with the most interesting one being those with George Takei (who played captain Sulu in the first Star Trek series) with his unforgettable "Oh, my!". The Aquos series of TVs were always good, but the new Quattron takes it to a new level.
Classic exterior, slim design and excellent picture quality
On the outside, the LC60LE830U looks very nice – it has a classy rectangle design that will never get old, with most of the front surface being covered by the 60 inch LCD panel, with slim edges all around and an extended lip with an aluminum frame for the control buttons right below it. The overall construction is very sturdy, and the thickness befits a modern TV – this Quattron is only 1.65 inches, on par with any other LCD TVs on the market, and at this size it looks amazing.
The quality of the picture is very high, thanks to the Full HD 1920×1080 pixels resolution, 6,000,000:1 contrast ratio, 120 Hz Fine Motion Enhanced technology and the UltraBrilliant LED backlight. The TV has excellent viewing angles (176 degrees both vertically and horizontally) thanks to the LEDs being positioned on the edges, though there is a bit of light leakage when you look at it from more than 150 degrees (but that's expected, and most people will watch it from 90 degrees or less, in that case the picture is ideal).
RGBY technology and Internet/Streaming services
One of the most advertised features of the Aquos Quattron LC60LE830U is its X-Gen LCD panel with Quad Pixel Technology, which in simple terms means that it has 4 colors per pixel instead of the usual 3 – it adds yellow to the red, green and blue mix. This gives it a whole lot of new color reproduction abilities, with everything becoming more colorful than ever – but you really have to see the panel in real life playing back a high quality Blu-Ray to see what I mean. It's an interesting decision, to say the least, as they basically make everything look prettier instead of more realistic.
As most of the new TVs, the Quattron 830 series also has integrated Wi-Fi for Web surfing and support for playback from external devices through HDMI and USB, and you can control Aquos Blu-Ray players using the TVs remote, if you wish. Sharp has also partnered with Netflix, CinemaNow and Vudu to let Aquos Quattron owners stream videos directly to their TVs using an Internet connection – a great feature, though you'll have to get subscriptions for the services you want to use.
Sharp has delivered one of their best LCD TVs yet with the new Aquos Quattron LC60LE830U, and if you want a big TV for your living room that will display colors you've never seen before, you simply must check out this TV!