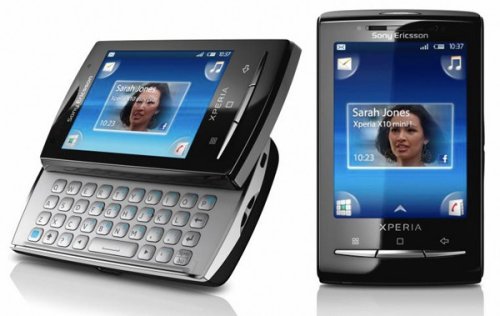 Sony Ericsson has always been known for creating high quality, stylish devices, and every one of their products, be it a TV, laptop or smartphone are kept at a high value by customers and the market itself. Their last couple of smartphones were pretty darn good, both functionality and style wise, but the drawback with creating high end products nowadays is that the niche is quickly getting oversaturated, especially with all the new high performance and relatively cheap models like the HTC Desire Z and LG Optimus 2X (which are a lot cheaper than similar Sony Ericsson phones).
There are quite a few solutions for this problem, and the most simple of them is moving on to another niche, which is exactly what Sony Ericsson is doing with their new Xperia Mini and Mini Pro smartphones – two affordable, stylish and functional smartphones that everyone can enjoy, no matter what their income level is.
Small and pocketable with powerful internal hardware
The Xperia Mini and Mini Pro are among the most unique smartphones on the market, exterior wise. They both sport tiny (by modern standards) 3 inch displays that are encased in an almost impossibly small housing, giving them a pretty unusual and interesting look. They're definitely pocketable, and while you can almost cover the Minis with your fist, they're still pretty usable for everyday tasks.
The difference between the Mini and Mini Pro is of course, the QWERTY keyboard that slides out from under the latter model. While 16 mm and 18 mm respectively may seem too thick for a smartphone, the small size and weight more than make up for it – the Mini is only 88×52 mm and 94 grams, while the Mini Pro is 92×53 mm and 136 grams.
The display is the same on both models and is certainly nothing special: it has a 320×480 resolution and supports Sony's Bravia Reality Engine, though that doesn't do it any good at this size and resolution. There's a front facing VGA camera for video calls and a bigger 5 megapixel one on the back for photos and 720p HD videos (it even has an LED flash).
The thickness can be explained by what's inside these two beasts: A fast Qualcomm Snapdragon running at 1 GHz powers them both, coupled with an unspecified amount of RAM (most probably between 384-512 MB). There's also 320 MB of internal space for all your apps and a micro SD card slot, which you can use to fill this tiny smartphone with up to 32 GB worth of data – that's actually pretty impressive!
A heavily customized Android 2.3 and very deep Facebook integration
On the software side, Android 2.3 Gingerbread will power these phones, although you'll hardly recognize it under Sony's make up: they have customized everything, from the skin on the status bar to animations and the home screen, with their own user interface. I really hope it's stable, because if it's not, a lot of users will be mad. At least Sony used the latest Android version, so at least people won't have to be stuck with Éclair or Froyo for the next 2-3 years like many previous Sony Ericsson smartphone owners.
Aside from the main OS, Sony Ericsson also installed a lot of their own apps, and made the Xperia Mini and Mini Pro more integrated with Facebook than any other phone on the market. For example, users will be able to like and share songs from the music player, see Facebook albums directly in the Gallery app, link the phonebook entries directly with the Facebook profiles and see all the information, sync Facebook events with the Calendar and get alerts right in the Android status bar and on the lock screen – if that's not deep Facebook integration, I don't know what is. Clearly they're going after young and hip users.
The Sony Ericsson Xperia Mini and Mini Pro will be available in the third quarter of 2011 – a bit late to the party, and who knows what competition it will have. However, with its wild look and great Facebook integration, I'm sure it'll find its buyers.