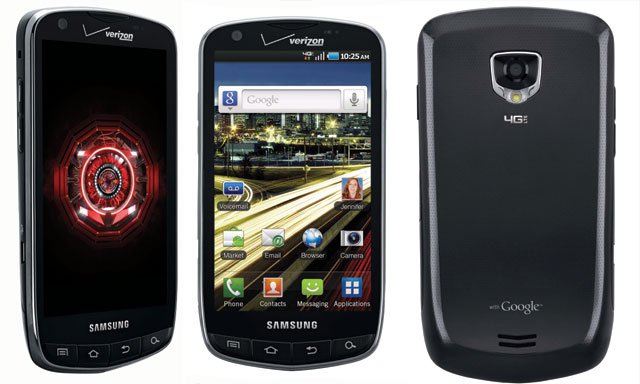 Back at CES 2011 the Samsung 4G LTE smartphone was announced for Verizon Wireless. Finally, the device was given a new name – The Samsung Droid Charge.
According to Samsung, the device is now available and will cost a mere $299 on a two-year contract.
Hardware
The new droid consists of striking angles and curves, which gives it that original look may users may long for. The front has a curved top and angled bottom, while the rear curves in and brings the device's bulk to a cusp at the bottom.
The design of the device is simply duplicated with the design of the camera it houses.

The screen consists of a massive 4.3-inch display and comes with Super Amoled Plus technology, which makes the display amazing bright and beautiful.
The device comes with an 8-megapixel camera and a 1.3-megapixel front-facing camera. Users will also find a 3.5mm headset jack, HDMI-out, microUSB port, microSD slot and a 1600mAh battery. One of its fascinating features is the fact that it supports 4G LTE connectivity, and the 4G SIM card it requires, that comes below the battery cover.
The device is driven by a 1GHz single-core Hummingbird processor and comes with 2GB internal memory, 512MB RAM and 512MB ROM.
Software
The Droid Charge comes with Android 2.2 as operating system and also included TouchWiz atop this. Users will find 7 home screens, 4 software buttons fixed on the bottom of the screen, and additional goodies in the pull-down notification area, which include Wi-Fi, Bluetooth, GPS, Mobile, Data and Auto-rotation.
The application tray house all the applications and games installed on the device. Users can scroll through them horizontally. A new useful feature will allow users to re-arrange applications within the app tray or delete them totally.
The device comes with a number of pre-installed applications – many of these will never be used in our opinion. Some useful applications include, Swype, Amazon Kindle, Backup Assistant, Bitbop, TuneWiki, ThinkFree Office, Task Manager and some others.
Samsung, as well as Verizon have also included their own proprietary portals on the device, which include AllShare, MediaHub, Verizon Apps and Mobile Hotspot. The latter app allow users to connect up to 5 devices to their phone, which will act as a Wi-Fi router.
Multimedia
The 4.3-inch Super AMOLED Plus screen is simply just short from brilliance! It provides bright and beautiful images. It was a pure pleasure to watch any videos or see games perform on the device.
With its 4G capabilities, users are in a position to view streaming media over the Internet at lightening fast speeds, provided you are in an area with good reception to support this technology. We rarely had to wait while the device buffers, as with many other devices when streaming media.
The microSD card, which is able to hold 32GB of data, is heaven-sent, especially for those who spend a lot of time downloading on the Internet.
Playing music on the Droid Charge is no magical experience, but the device comes with a reasonable media player and plenty of storage. If you are a music fan, looking for a device with superb sound quality, then the Charge is unfortunately not for you.
The Browser
Although the device consists of a brilliant screen, we were less impressed when browsing the Internet. The device seems extremely clunky when loading and browsing through websites. We struggled with web pages loaded with advertisements, and pinching-and-zooming was not much better at all on the screen.
The Camera
The Droid Charge comes with both an 8-megapixel rear-facing, as well as a 1.3-megapixel front-facing camera. The back camera also comes with LED flash.
As expected, the quality of images is fantastic. Macro-shots are even more beautiful when a user chose to take up-close images.
One thing users will notice is that the user interface of the Charge camera is extremely difficult to use. It will take some time and practice to get use to, so be aware of this!
The Battery
The Droid Charge comes with a 1600 mAh battery. The bigger battery is expected when one takes into consideration the Super AMOLED Plus screen and 4G network that is being handled by the device.
In the End…
The Droid Charge is indeed an above-average mobile smartphone. We were surprised with many of its functions. Unfortunately, there were quite a few features, which were a set-back to us and will probably be to many other smartphone users.
If you are in the market for a good Android smartphone, we would rather flag you down to look at something with a bigger dual-core processor. If you are not willing to dish out a bit more for a bigger device, the Droid Charge may well be a good decision.