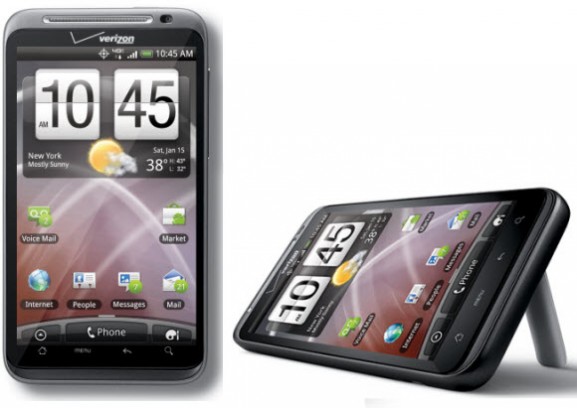 HTC is the biggest Android phone manufacturer in the world, and one of the biggest overall smartphone manufacturers. They've released more smartphones in 2010 than just about anyone else, but by the end of the year, all of the phones started to really seem cookie-cutter, with no innovations whatsoever.
Even the T-Mobile G2, which was one of the most awaited phones of 2010, wasn't all that great, with mediocre internal hardware and a pretty badly designed hinge, which is not useable in some situations and will definitely get worse with time. Motorola, LG, Samsung and other manufacturers were announcing their new dual core smartphones, while HTC was stuck with the rumors about their Thunderbolt, which was finally demonstrated a few months ago and while it is a nice smartphone, it is definitely nothing special by any means.
The exterior
The external design follows the exact same patterns as HTC's other big screen devices, the EVO 4G, Desire HD and Inspire 4G, with rounded edges and your usual hardware navigation buttons below the display. This is the first device to have full 4G LTE network support for Verizon, so at least there's something new for the users (though that might not be a good reason to buy the phone, seeing as 4G LTE doesn't actually achieve much higher data connection speeds in most areas).
On the front, you'll find a 4.3 inch Super LCD wide screen, with the usual 480×800 resolution – a decent display, though it's nothing new. There's a 1.3 megapixels front facing camera for video calls and a nice 8 megapixels unit on the back for taking photos and recording 720p HD videos. On the back, you'll also find the pretty useful kickstand; though I can see how a lot of people may be confused as to why it is covering the main speaker (it does make a difference when listening to anything, so you'll have to open the kickstand for the best quality or highest volume).
The internal hardware
On the inside, there's almost nothing special. The Thunderbolt uses the same 2nd generation Snapdragon as the T-Mobile G2/HTC Desire Z, although this time it's running at 1 GHz, and with the new Adreno 205 graphics adapter, it should provide more than enough performance for almost any apps, though it certainly is not as powerful or future-proof as a dual core solution. There are 768 MB of RAM to sustain said performance, and all the other specs are pretty standard (Wifi N, Bluetooth 2.1, aGPS, accelerometer, proximity sensor, the usual), except for the 32 GB microSD card included in the package, which brings the total storage memory up to 40 GB when you count the internal 8 GB – they had to lure the buyers in with something :-)…
The software and pricing
Software-wise, everything looks great – the Thunderbolt runs on Android 2.2, with a future upgrade to 2.3 and maybe a newer version, and features HTC's Sense skin, which a lot of people seem to love (it does work better than any other custom UIs in the market, I'll give it that). There is also support for DLNA networking if you have other devices that support it and want to share files between them.
The HTC Thunderbolt was just released this month on Verizon's network, and you can get it for $599 without a contract or $259 with a 2 year contract, which is a pretty good price for the device, although there are definitely more powerful alternatives out there (like the Droid Bionic).