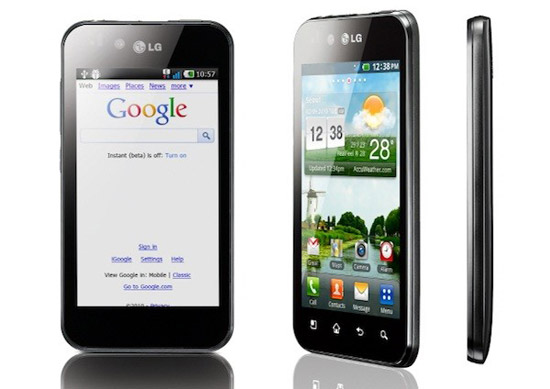 LG is definitely on a roll with their Optimus line of smartphones this year, announcing quite a few new models that look better than anything they've released in the previous 2 years combined. The most popular of them is of course, the Optimus 2X, the first dual core smartphone in the world, but there's another high end model which looks very interesting and deserves more attention than it seemingly gets: the Optimus Black.
A very nice slim design and powerful internal components
Also known as the LG P970 or LG "B", the Optimus Black is a slab-style smartphone that is easily one of the slimmest smartphone in the world, which actually makes it look pretty impressive. The housing is only 9.2 mm, which is thinner than the iPhone 4 by 0.2 mm! OK, that's not THAT impressive, but it still looks awesome.
Despite the ultra-slim design, the Optimus Black still manages to tout enough powerful hardware to make any applications run at their full speed without any issues. The device is powered by the new 2nd generation Snapdragon CPU, which is both faster and more energy efficient than its predecessor, and also has the new Adreno 205 graphics adapter for improved performance in games and graphics-intensive applications. The amount of RAM is set at 512 MB – pretty much standard on new smartphones, and more than enough for any applications.
Enough storage space for any needs and a new NOVA display
There should be no problems on the storage memory side, as well: the Optimus Black comes with 1 GB of internal memory for apps and an external micro SD card slot for up to 32 GB more memory, which should be enough for anyone using this phone.
One of the other defining features of the Optimus Black is the new 4 inch, 800×480 pixels NOVA display, which is supposed to be both brighter AND up to 50% more energy efficient than current LCD screens, which will undoubtedly come in handy on any smartphone. The battery life is further improved by the high capacity 1500 mAh battery – it's amazing that they managed to fit it in such a slim smartphone. The device will last a full day (i.e. more than 12 continuous hours) of use, which is certainly great, but we'll have to wait for real world tests to confirm these claims.
All the other hardware features you'll need + the Android OS
Sure enough, you get all the other features a modern smartphone should have: support for Wifi N, Bluetooth 2.1 EDR, HSPA+ data connections of up to 14.4 Mbps and 5.76 Mbps download/upload, GPS, accelerometer and much more. There is a 5 megapixels camera on the back for pictures and HD video shooting and a smaller 2 megapixels unit on the front for video calls.
The Optimus Black runs the Android 2.2 OS (with a future update to 2.3), augmented by the new LG Optimus UI 2.0, which, unlike other custom skins, actually brings something useful to the smartphone experience. One of the best features of the Optimus UI is the gesture and accelerometer controls, which allow you to answer a call by simply picking the phone when it's lying on a desk, unlock it by shaking, open apps with various gestures and much more.
The LG Optimus Black is now available worldwide, and it is definitely one of the best smartphones on the market, combining both style and functionality into one attractive package. If you want to buy a new smartphone, it may be worth looking at this model before making a choice.