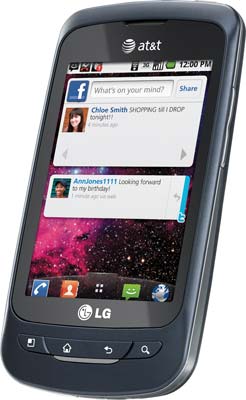 The budget friendly smartphones market seems to be booming right now, with over a dozen devices either on sale or being announced by the most popular manufacturers. Samsung, HTC, Motorola, LG – everyone is in the game to get more customers, whether they're tech enthusiasts, professionals and entrepreneurs or simple consumers who want a new smartphone.
One of the latest offers in this niche is the LG Phoenix P505, which is basically the LG Optimus One for AT&T's US network. It resells for only $29.99 with a contract, and it's an excellent choice if you're upgrading to a smartphone for the first time or just want a very inexpensive workhorse that you won't be afraid to scratch.
The LG Phoenix looks pretty darn good on the outside, much more so than some other phones from Samsung and HTC. Despite being made out of plastic (really strong plastic) – the P505 feels very sturdy and from afar, looks like a premium smartphone – you could easily mistake it for some dual core monster, for example.
A nice 3.2 inch display and 3.2 megapixels camera
On the front, there's a reasonably sized 3.2 inch capacitive display with HVGA resolution (320×480 pixels), which should be enough for most applications – even surfing the web is pretty comfortable, unlike the Samsung Galaxy Mini, for example, with its abysmal 320×240 pixels screen.
Just below the screen, you'll find your usual Android navigation buttons, which are pretty pleasant to the touch and won't cause any accidental presses, being hardware buttons and all. On the back, there's a 3.2 megapixels camera with no flash, which should be enough for taking pictures during the day, but it certainly won't win any picture quality contests, and it only supports VGA resolution for videos, so no HD or even widescreen Youtube uploads either.
Enough processing power for most needs
While the Phoenix doesn't feature any of the current lines of processors, whether single or dual core, it still packs more than enough processing power to take on the various tasks you can throw at it. Powered by a 600 MHz Qualcomm processor (which is basically a cut-down version of the first generation Snapdragon, so it's pretty fast) and featuring 288 MB of RAM and a separate graphics adapter with OpenGL 2.0 support, the LG Phoenix will be good at Web browsing, document editing, viewing photos and videos (though it won't handle HD), watching Youtube videos and even playing the occasional Angry Birds – and really, what else do most people need on a phone?
There's also a micro SD card slot, so with a nicely sized 8 or 16 GB card, owners will have all the space they need for their files. Other hardware specs include Wifi, Bluetooth, GPS, USB port, a 3.5 mm audio jack, accelerometer, compass and support for HSDPA/HSUPA of up to 7.2 and 2.0 Mbps, respectively – that's more than enough for even the more advanced users.
Android 2.2 is a great choice for the OS
The LG Phoenix will run Android 2.2 out of the box, which is more than enough for everyone – it can easily run just about any app on the market you can think of. Of course, LG uses their own custom skin that's supposed to be easier for newbies, but I don't know about that, I think the default Android is pretty good, plus it's definitely less buggy.
Overall, the LG Phoenix P505 looks like a great choice as a first smartphone or an inexpensive everyday work machine for those who don't need the power and screen size of the higher end devices. It's able to do everything a user wants and it costs $30 – that's definitely a good combination.